Hope Solo -- Police Org. Demands Apology ... Over Alleged Anti-Cop Rant
Hope Solo
Police Org. Demands Apology
Over Alleged Anti-Cop Rant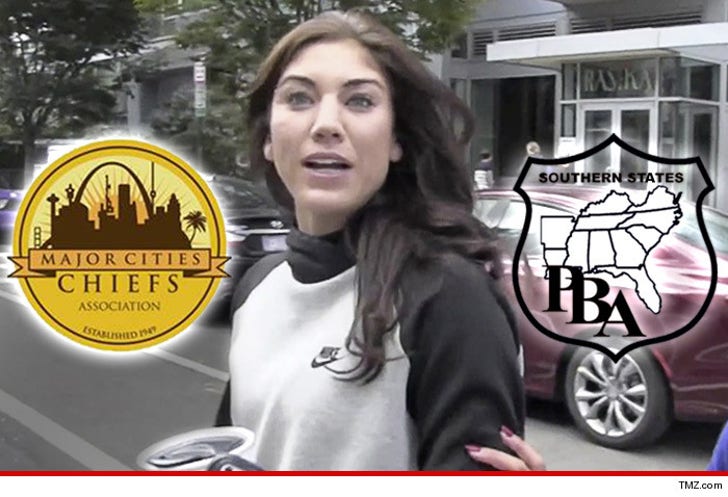 EXCLUSIVE
Two organizations that represent police officers are demanding an apology from Hope Solo -- saying the way she allegedly treated cops during her '14 arrest is completely unacceptable.
We spoke with the executive director at the Major Cities Chiefs Association ... an international group dedicated to forwarding the interests of police officers ... who tells us, "It's so unfortunate that someone of [Hope's] stature would berate a police officer -- though, it's uncommon."
According to the Kirkland Police Department ... Solo WENT OFF on several officers when she was arrested for domestic violence last year -- telling one cop, "You're such a bitch. You're scared of me because you know that if the handcuffs were off I'd kick your ass."
The MCCA says, "My message to Hope would be, apologize. Say you're sorry. An apology goes a long way. Most police officers are very understanding people."
We also spoke with a rep for the Southern States Police Benevolent Association ... which represents 40,000 officers in the U.S. ... who tells us they're also disappointed with the soccer star.
"It's unfortunate she's degrading the people that protect her. She should try walking a mile in their shoes."
As for allegations, Hope told an officer that her necklace costs more than that cop makes in a year ... the SSPBA says, "The fact of the matter is, her necklace probably does cost more than that officer makes in a year ... and that's sad."
"They're doing a job no one wants to do, risking their lives, and they have to face this abuse."