Hope Solo -- Shocking Details from '14 Arrest ... Called Cop a 'B*tch'
Hope Solo
Shocking Details from '14 Arrest
... Called Cop a 'B*tch'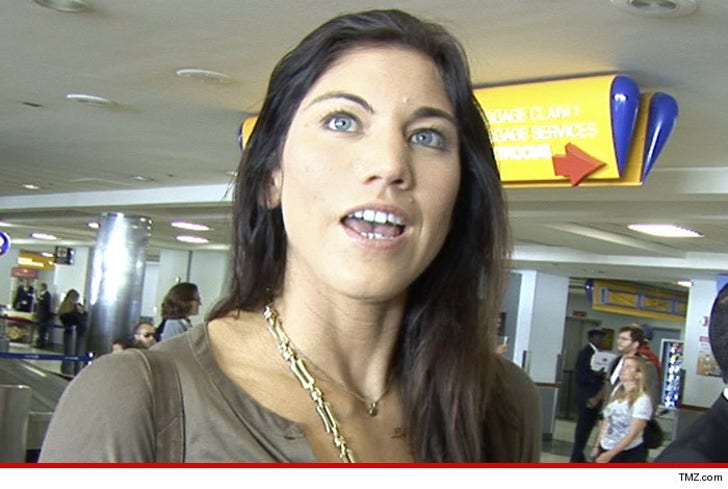 Breaking News
U.S. soccer superstar Hope Solo WENT OFF on police during her 2014 domestic violence arrest ... reportedly telling a cop, "You're such a bitch. You're scared of me because you know that if the handcuffs were off I'd kick your ass."
It's all part of new police documents unearthed by ESPN which stem from Solo's 2014 domestic violence arrest in Seattle ... when she allegedly attacked family members at her half-sister's home.
According to the docs, Solo appeared to be wasted when she was taken into custody -- and was screaming profanities at the arresting officers.
Cops say Solo -- who demanded to be called Mrs. Stevens (she's married to ex-NFL star Jerramy Stevens) -- repeatedly insulted officers ... and when one cop asked her to remove her necklace she told him "that the necklace was worth more than he makes in a year"
The report also says, "During the fingerprinting of Mrs. Stevens she made numerous statements that I was not worth anything and should be proud to have such authority."
According to ESPN's "Outside the Lines," Solo also suggested that two of the jailers were having sex ... and called another officer a "14-year-old boy."
When asked for comment about Solo's behavior, Hope's lawyer told ESPN, "Any of us would be upset at being wrongly arrested." He also claims Solo was not drunk, she was concussed and her behavior was consistent with someone who suffered a "significant head injury."
As for the domestic violence allegations, the case was initially dismissed ... but prosecutors filed an appeal ... and are scheduled to file their argument by July 13th.
Solo has previously denied attacking her 17-year-old nephew -- and said she was the real victim during the 2014 incident.