Smoothie King To NCAA Star: OUR SMOOTHIES ARE PED FREE
Smoothie King To NCAA Star
OUR SMOOTHIES ARE PED FREE
... Drink Up, Kid!!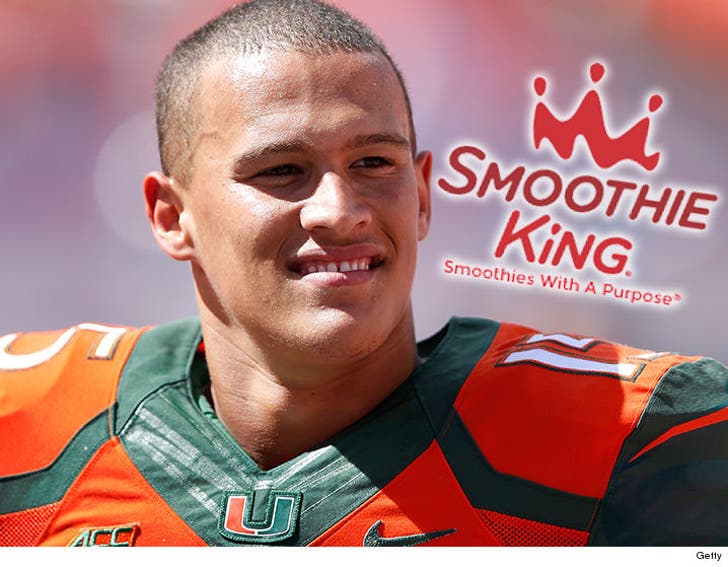 EXCLUSIVE
A national smoothie chain wants athletes everywhere to know they are completely and 100% PED FREE ... this after an NCAA star publicly wondered whether or not the joint was safe.
It all started when Brad Kaaya -- the Miami Hurricanes QB projected as a top pick in next year's draft -- questioned whether the supplements at Smoothie King were okay by NCAA PED testing standards.
Kaaya was obviously trying to make a point about the testing ... but even still, a rep from Smoothie King (800 stores nationwide) was quick to tell TMZ Sports the athletes have ZERO TO FEAR.
"Our proprietary Gladiator Protein, which is available in smoothies and in retail, is free from banned substances and perfectly safe for all athletes."
Want iron clad proof? The company says their products have already been tested ... by the NBA ... as part of a deal to get naming rights for Smoothie King Center ... where the New Orleans Pelicans play.
"Our partnership with the NBA's New Orleans Pelicans requires that we meet the NBA's rigorous standards for being athlete-friendly, and includes annual testing of all our ingredients."