Joey Fatone: 'NSYNC Could Team with Justin Timberlake, Reunite at Super Bowl
Joey Fatone
'NSYNC Might Join J.T. at Super Bowl
'If It's Right, Then We Do It'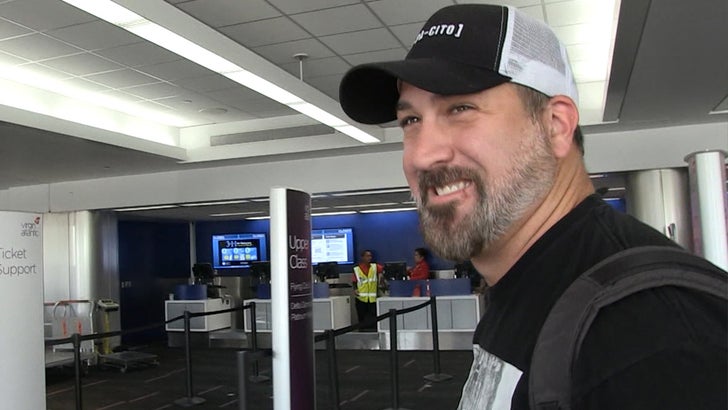 OCTOBER 2017
TMZSports.com
AN 'NSYNC REUNION AT SUPER BOWL LII?!?!
Don't rule it out -- so says Joey Fatone ... who tells TMZ Sports there's definitely a possibility the gang could reunite if Justin Timberlake signs on to do the halftime show.
Important to note, neither JT nor the NFL have confirmed anything yet -- but there are reports the two sides are in talks.
So, when we saw Fatone out at LAX, we asked if he'd be interested in an 'NSYNC reunion on the biggest stage in the world.
Joey reminded us of 'NSYNC's 1-night reunion at the 2013 MTV Music Awards ... when he re-teamed up with JC, Chris and Lance for Justin. They also rocked out together at Super Bowl XXXV, FYI.
But as Fatone told us, a lot of pieces gotta fall into place -- from the NFL asking nice to all the boys being free.
If it IS all good -- "Then we do it ... it's pretty simple."