G-Eazy Arrested for Assault and Cocaine Possession in Sweden
G-Eazy
Busted For Assault, Cocaine Possession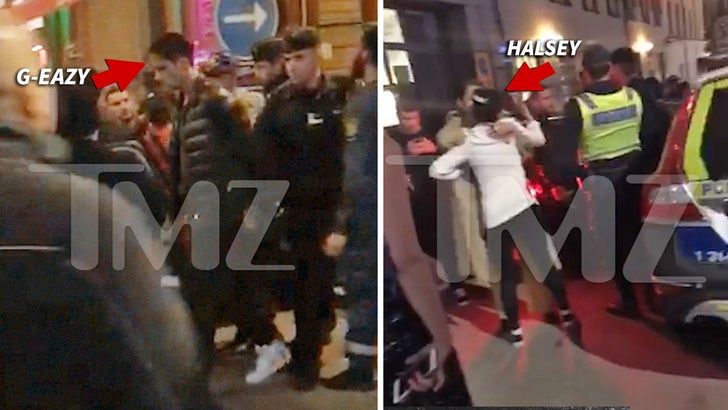 TMZ.com
9:13 AM PT -- We've obtained video of G-Eazy getting loaded into a police car. In another clip, Halsey can be heard yelling about getting hit in the face -- we're told she may have been struck by a security guard during the scuffle inside the club.
G-Eazy was arrested in Sweden after allegedly attacking security guards and getting caught with cocaine.
Sources familiar with the situation tell us the rapper was partying in a club after his show Wednesday in Stockholm and was acting belligerent. We're told several security guards approached him, asking him to calm down, but G-Eazy started to throw punches ... striking one guard in the face several times.
We're told he was detained by police, who allegedly discovered cocaine in the rapper's pocket.
Our sources say he was taken into custody on suspicion of assault, possession of narcotics and use of narcotics. We're told he's still in custody.
Several videos taken inside the club show G-Eazy partying with friends -- including girlfriend Halsey and rapper Sean Kingston -- and handing out shots.
We've reached out to several members of G-Eazy's team ... so far, no word back.