NFL's Cayleb Jones Mug Shot After Domestic Violence Arrest
NFL's Cayleb Jones
Dom. Violence Arrest Mug Shot
... Allegedly Kicked GF
According to court docs obtained by TMZ Sports, Jones allegedly picked his GF up and threw her down ... and later kicked her during the physical altercation.
Officials say Jones' GF escaped to the elevator and attempted to call 911 ... but the Vikings WR intercepted the elevator on a lower floor and smacked the phone out of his GF's hand.
Jones then allegedly picked up the phone and fled the scene before cops arrived, according to the docs.
Cayleb was later arrested ... where he's still being held in county jail without bail.
TMZ Sports has obtained Cayleb Jones' mug shot after the Minnesota Vikings wide receiver was arrested for domestic violence on Tuesday.
The Eagan Police Dept. in Minnesota tells us, "Our preliminary investigation revealed there was a verbal altercation between Mr. Jones and a female which turned physical."
"Mr. Jones fled the scene prior to officers' arrival, but later turned himself in at the Eagan Police Dept., where he was subsequently arrested and transported to the Dakota County Jail."
Officials say the case has been kicked over to the Dakota County D.A.'s office. Prosecutors will decide if Jones will be formally charged with a crime by noon tomorrow.
In the meantime, Jones is being held without bail.
The 6'3", 209 pound WR is currently serving a 4-game suspension for violating the NFL's PED policy.
He was a member of the Vikings practice squad last year and was competing for a spot on main roster this season.
Cayleb's brother Zay Jones (who plays for the Buffalo Bills) has also had a tough off-season -- he was arrested back in March for felony vandalism.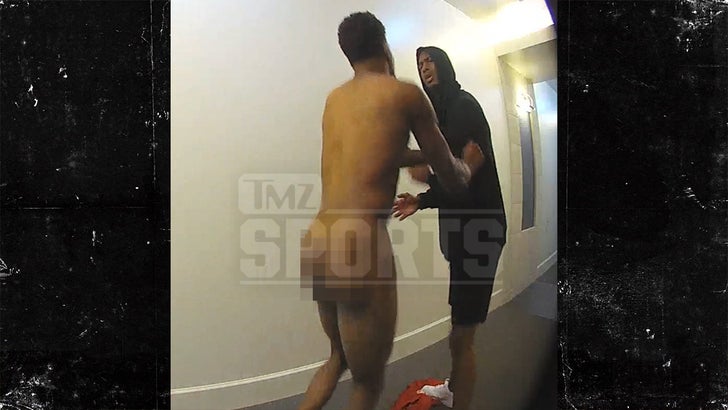 MARCH 2018
TMZSports.com
TMZ Sports had obtained footage of the incident in which you can see Cayleb trying to restrain Zay who was allegedly trying to jump out of a 30th story window at an L.A. building.
Zay has since returned to the Bills and says he's doing okay. The charges against Zay were eventually dropped.