LSU Basketball Player Wayde Sims Killed in Shooting
LSU Basketball
Wayde Sims Killed in Shooting
... at 20 Years Old
LSU basketball player Wayde Sims was shot and killed near Southern University's campus early Friday morning, Baton Rouge PD confirms. He was just 20 years old.
Cops say the junior forward was shot at a Subway restaurant across the street from the SU's football stadium around 12:30 in the morning.
Sims was transported to a local hospital where he later died from the gunshot wound.
FYI, Southern University is also located in Baton Rouge ... about a 15-minute drive from LSU's main campus.
Baton Rouge PD released video of a violent altercation leading up to the fatal shooting ... and are trying to identify the person wearing a gray t-shirt and red pants seen toward the end of the clip.
"We are all devastated," LSU coach Will Wade said Friday morning. "We need your prayers for Wayde, for his family, for all of us. We are heartbroken."
"Wayde Sims' loss is simply unbelievable to us right now," Joe Alleva, LSU's athletics director, added. "There are no words that can express our sorrow for his parents and family."
"He was such a lovable young man who was full of joy. We are circling around his teammates and friends who need all the love and support we can give them. We are praying for his family, for his parents. God bless Wayde Sims."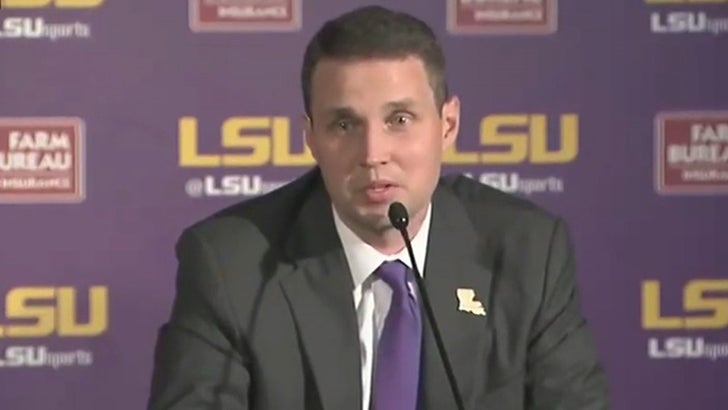 LSU
"This is your worst nightmare as a coach," Wade said in a news conference Friday morning.
"Everybody liked him. Anybody he came in contact with you automatically just loved him and loved his personality. He was just a blast to be around at all times."
"Obviously, we're all still devastated and in shock about everything. But we're going to support Wayde's family and support our guys and slowly move forward from this."
LSU alum and former NFL star Marcus Spears shared his condolences, saying "Sick about the news of #WaydeSims of @LSUBasketball woke up to this, this morning and it's heartbreaking for these young men to lose their lives at the hands of someone that shouldn't make that choice for them! #RIP young Brah #Senseless"
Kentucky Wildcats head coach John Calipari released a statement Friday morning -- "Saying a prayer this morning for Wayde and the @LSUBasketball family. Very tough news to hear we've lost a young man just getting started. My condolences to his family, friends and teammates."
Philadelphia Sixers superstar Ben Simmons dedicated an Instagram post to Sims, saying "Gone too soon. Sending my prayers to the Sims family and everyone back home at @lsubasketball Nothing but positive things to say about you brother #lsuforever"
Auburn basketball head coach Bruce Pearl added, "Devasted to hear of the passing of Wayde Sims. Our thoughts and prayers are with his family and the entire LSU community during this difficult time. Father God please take care of him!"
Sims -- whose dad Wayne also played for the Tigers from 1987-1991 -- averaged 5.6 points and 3 rebounds a game last season. He was a high school prodigy and was named the Louisiana Gatorade Player of the Year in 2015.