Nick Jonas and Priyanka Chopra's Families Compete in Song and Dance Party
Priyanka & Nick's Wedding
Tonight, We Dance!!
Family vs. Family ... Bollywood-Style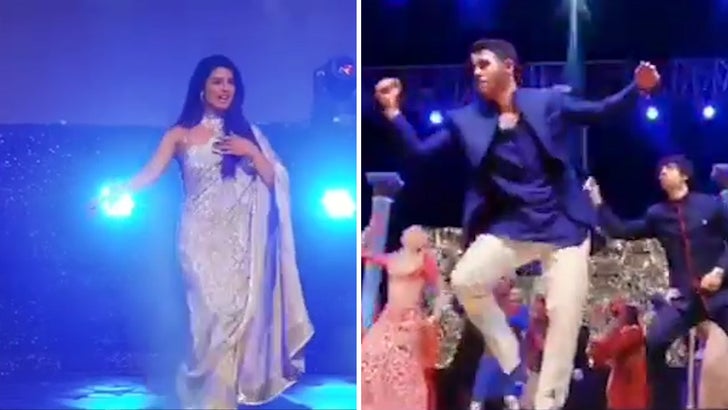 SplashNews
Priyanka Chopra and Nick Jonas have a lock on the award for Most Fun Celeb Wedding Ever -- and you'll agree after seeing this video ... it ain't even close.
The Friday celebration included a Hindu tradition called Sangeet, which is -- as Priyanka described it -- "a fierce song & dance competition between families." The video is insane ... the Chopras and Jonases put on a full production that looked like a Bollywood set.
The idea is for the families to tell the story of Nick and Priyanka's romance through musical production. You might think the Jonases had the edge -- Nick's bros were all on stage -- but remember, they're on the Chopra's turf.
The Sangeet is just the latest stage of a full weekend celebration. Nick and Pri officially tied the knot on Saturday with a traditional Christian wedding ceremony -- officiated by Nick's dad, Paul Kevin Jonas Sr. They had a laugh-riot pre-party for that one, too.
Sunday is for the traditional Indian wedding, and the Sangeet is, basically, the pre-reception for that ceremony.
Neither sides saying who won the competition, BTW. Priyanka says it ended as "a huge celebration of love." Hard to argue with the bride on that.