Kanye West's Sunday Service at Coachella a Star-Studded, Spiritual Show
Kanye West
Sunday Service from Coachella
... Spiritual, Emotional & Quite a Show!!!
4:05 PM PT -- We got the full rundown of all the big names at the Service, and the list is massive. Along with those already mentioned ... Justin and Hailey Bieber, Lil Pump, Willow and Jaden Smith, 2 Chainz, Tame Impala, Donald Glover, Kid Cudi, Jerrod Carmichael, Jermaine Dupri and Idris Elba were all in attendance.
11:50 AM PT -- Kanye's Service has wrapped up ... after an upbeat and emotional couple hours with a lot of help from his friends.
The final hour featured DMX giving a prayer, Chance the Rapper performing "Ultralight Beam" and a huge rendition of "Jesus Walks." At one point it looked like several members of the choir, including Kanye, were moved to tears.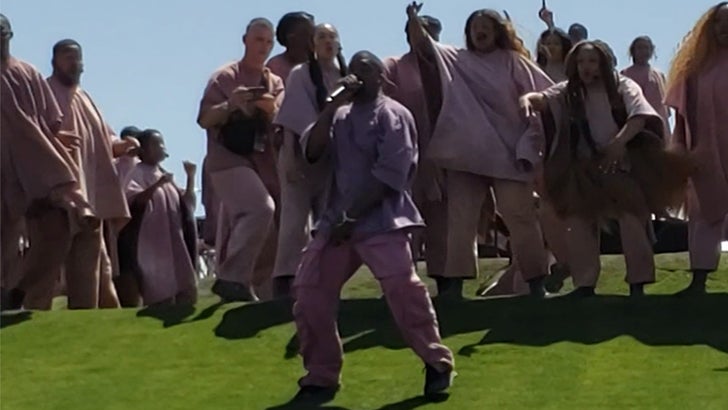 4/21/19
TMZ.com
Kylie and Travis were apparently feeling it too ... and were moved to a little PDA. Happy Easter, everybody!
11:05 AM PT -- Though the Service kicked off at 9 AM, Kanye wasn't revealed on Coachella's fisheye lens stream 'til about 9:50, and he didn't get on the mic for another hour after that ... when he performed "All Falls Down." He followed it up by premiering his new song, "Water," with Ty Dolla $ign.
He's also rocking purple hair.
Not that Ye hasn't been busy the whole time -- he's been dancing, playing piano and directing the choir ... while tens of thousands of festival attendees gather around. The show is still going too.
Kanye West is ready to preach his version of the gospel for all the folks at Coachella ... and TMZ will be streaming live when it begins at around 9 AM PT.
Ye will host his Sunday Service, which has become a thing in L.A., attracting lots of celebs. It's more music than preaching, which may be a reason why some not-so-religious people have become believers. Kim Kardashian West was getting the family ready to attend bright and early.
A brand new stage was set up in the campground for Ye, and everyone with a wristband is welcome.
The Sunday Service will feature a massive choir, orchestra and, we're told, other surprises. In weeks past he's performed both gospel songs as well as some of his hit songs.
During a recent service ... Kanye paid homage to Nipsey Hussle by playing audio of Nipsey delivering inspirational thoughts. It was one hell of a show.
Originally Published -- 8:30 AM PT