Felicity Huffman Facing 4 Months in Prison As She Enters Guilty Plea
Felicity Huffman
Recommend 4 Months in Prison
As She Enters Guilty Plea
12:36 PM PT -- A tearful Huffman just pled guilty ... she also disclosed her daughter suffered from learning disabilities through her life. She will be sentenced in September.
12:00 PM PT -- Felicity Huffman just acknowledged her guilty plea agreement with prosecutors and an assistant U.S. attorney said in court that the government will ask for a four-month prison sentence as well as a $20,000 fine. The prosecution made a note that they went light on Felicity, as they could've gone after money laundering charges ... like they have for Lori Loughlin and others who didn't cop a plea. It appears she's right in the middle of entering her plea now.
Felicity Huffman just walked into a Boston courtroom to make it official -- she's pleading guilty Monday for her role in the college admissions scandal.
The actress arrived at the Boston courthouse with her brother, Moore. No sign of Felicity's husband, William H. Macy ... at least not yet.
The ex-"Desperate Housewives" star is one of 24 people who've agreed to plead guilty in the case. Although she'll make her plea official Monday before the judge ... we're told it could still be another 12-14 weeks until she's sentenced.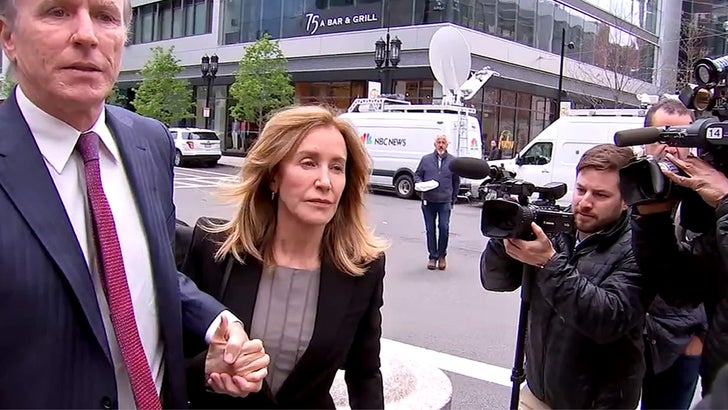 MAY 13, 2019
Fox 25 Boston
As for those consequences ... prosecutors want her to do 4 to 10 months in a federal prison, but Huffman wants to argue it should be 0 to 6 months. Ultimately, the judge will decide, and could also slap her with fines and restitution.
Huffman was charged with conspiracy to commit mail fraud as well as honest services mail fraud. She paid Rick Singer $15,000 to rig her daughter's SAT test, and her girl had twice the amount of time as normal to take the exam and her answers were corrected afterward.
Felicity released a statement saying she was ashamed of the pain she caused her daughter and her family, adding ... "I am in full acceptance of my guilt, and with deep regret and shame over what I have done, I accept full responsibility for my actions and will accept the consequences that stem from those actions."
Originally Published -- 10:05 AM PT