Antonio Brown Agrees to Fight Logan Paul, 'Hopeful' He'll Get Back In NFL
Antonio Brown
Agrees to Fight Logan Paul
Apologizes to Everyone He's Hurt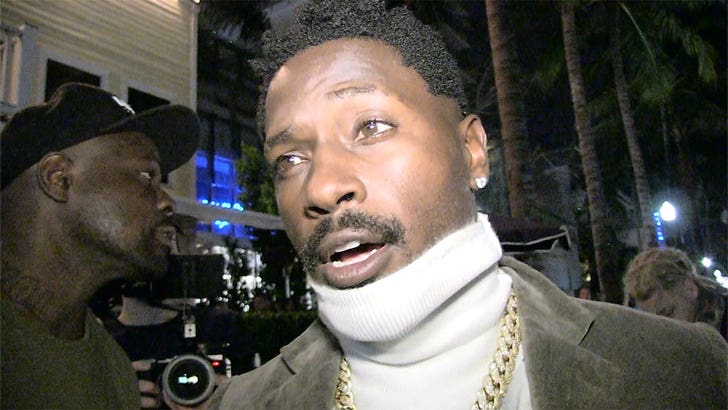 FEBRUARY 2020
TMZSports.com
10:03 AM PT -- Brown also just issued an apology to the mother of his children, Cheslie Kyriss -- who he had been trashing on social media for months.
"I owe my wonderful Kids and the mother @chelsie of my wonderful kids, The world Biggest Apology," Brown said in a statement Sunday morning."
"For my Public out breaks through social media, and for the hurt that I may have took them through while on my Emotional roller Coaster that were all are face with in Life."
8:53 AM PT -- Antonio Brown came face-to-face with Logan Paul in Miami on Saturday -- and agreed to fight the YouTube star in a sanctioned boxing match.
The two talked things out at the Maxim Havana Nights Super Bowl Party (put on by In The Know Experiences) -- you can hear Brown tell Paul, "Let's do it."
As we previously reported, the two were in serious talks with DAZN but after Brown was arrested for allegedly attacking a moving truck driver, it seemed the fight was off.
But, in a friendly exchange captured on video by our friends at BSO, the two shook hands, hugged it out and agreed to fight. Stay tuned ...
Antonio Brown is adamant his apology letter to the Hollywood PD was sincere -- part of a larger apology mission -- and he's hoping he can get back in the NFL.
We got Brown at one of the hottest restaurants in Miami, Prime 112, and he told our photog he's had an epiphany and he's trying to make amends with everyone he's hurt recently, including the cops.
The Hollywood Police Dept. recently cut ties with Brown, returning a donation he made to the Dept.'s youth flag football league. As we reported, Brown berated cops who responded to an altercation he was having with his baby mama.
AB wrote an emotional letter to the Hollywood PD for being a massive headache the last few months.
Brown wrote an emotional letter to the police, asking for forgiveness ... "To everyone who I may have offended or Disrespected at the @hollywoodflpd Of the state of Florida, I would like to sincerely give you all my apology from the top and bottom of my heart."\
The P.D. made it clear ... "We will not take money from a donor that we cannot have our youth be proud of or represent the organization."
As for the NFL, Brown suggests there are teams he's targeting who might be interested -- but he stopped short of naming names.
Originally published -- 6:48 AM PT