'Snacks' Lee Gets Signed Jersey From Kevin Durant After Viral 3-Pointer
'Snacks' Lee
Gets Signed Jersey From Durant
... After Viral 3-Pointer
6:03 AM PT -- 3/6 -- Awesome gesture by Kevin Durant ... the NBA superstar sent Snacks an autographed jersey!!!
"The past 72 hours has been surreal," the Jackson State viral superstar said Thursday. "Special shoutout to @easymoneysniper for the signed jersey."
What's the best part of becoming an overnight superstar thanks to a viral 3-point basketball shot!?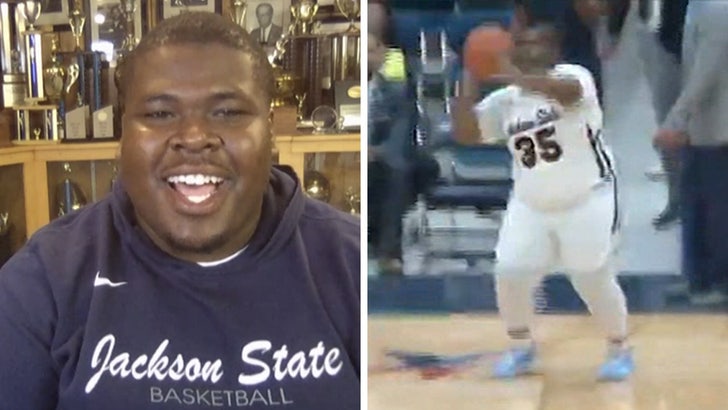 TMZSports.com
Jackson State team manager Thomas "Snacks" Lee says he got a personal message from his hoops hero Kevin Durant ... and he's STOKED!!!
"Kevin Durant has been my favorite player since he played at Texas," Snacks told TMZ Sports ... "I've got an enormous collection of KD jerseys!"
Well, Durant became a fan of "Snacks" this week after he saw that amazing footage of Lee achieving his dream and checking into a Division 1 basketball game ... hitting a DEEP 3 in the process.
"I see you snipe," Durant said to Snacks on social media.
Snacks says he was PUMPED to get love from KD -- telling us he's been calling himself "Fat Durant" for years ... and was honored to hear from the man himself!
And it's not just KD, Snacks has become a star on campus at Jackson State -- telling us, "After the game, fans showed mad love. My phone from 10 PM last night 'til now, I had to keep my charger on me because it's just constantly going off."
Jackson State takes on Alabama State on Thursday -- hopefully, we get more Snacks!!!!
Originally Published -- 3/4 8:57 AM PT