Dr. Fauci
I Wasn't Bad-Mouthing Trump!!!
... Sets Record Straight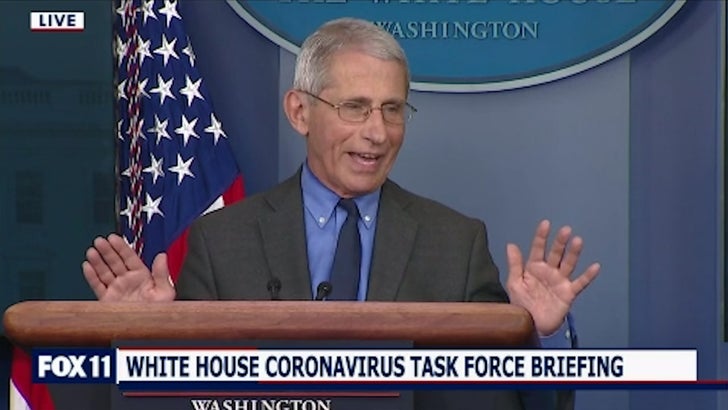 Fox 11
3:50 PM PT -- Dr. Fauci just addressed the reported head-butting that's supposedly been going on behind closed doors with himself and the President's administration, and the guy sure seemed to be trying to put out the fire with a clear and concise timeline of events.
The good doctor was at the podium Monday in the White House Press Briefing Room, where he laid exactly when he and his CDC/NIAID colleagues told DT they strongly suggested shutting stuff down, and how the Prez responded. Sounds like Trump wasn't going rogue or ignoring the advice of the scientists -- he acted on their recommendations when they told him he should ... at least that's what Fauci seems to be saying here.
He DID clarify something he recently said in the press regarding some "pushback" he claimed was taking place among cabinet officials when Fauci and co. first recommended closing up shop for an extended period of time. DF says he used a poor choice of words, and insists Trump officials only raised concerns about ramifications of such an action -- like crippling the economy, job loss, etc. He says NO ONE in Trump's administration told him they shouldn't do it -- which is what many took away from his remarks this past week.
Bottom line ... Fauci says each and every time he and his cohorts suggested the President do something, the answer was yes. When a reporter asked if he was making these clarifications voluntarily, he got a little snippy ... telling her not to even insinuate he wasn't.
Sounds like Dr. Fauci wanted to put any perceived bad blood between him and 45 to bed.
10:57 AM PT -- Trump is not firing Fauci -- even if his retweet suggested he's thinking about it -- and the White House says, "This media chatter is ridiculous."
Hogan Gidley, a spokesman for the Trump administration, insists ... "Dr. Fauci has been and remains a trusted advisor to President Trump."
President Trump hit the retweet button on a call to fire Dr. Anthony Fauci -- which seems to indicate a growing rift between Trump and his pandemic right-hand man.
Trump's promotion of a #FireFauci tweet comes in response to the infectious disease expert's CNN interview Sunday ... where he said the U.S might have prevented deaths if it had put mitigation efforts in place in February, instead of mid-March.
Fauci's comments weren't necessarily a direct shot at Trump -- he told Tapper "what goes into those decisions is complicated" -- but the retweet seems to indicate the Prez took it as one.
Trump retweeted a woman claiming Fauci himself told people "there was nothing to worry about and [COVID-19] posed no threat to the US public at large" on February 29. She then wrote, "Time to #FireFauci..."
The President added ... "Sorry Fake News, it's all on tape. I banned China long before people spoke up."
If you haven't been paying attention, Trump has been touting his China travel restrictions for saving lives -- something Fauci's praised him for as well -- while ignoring his other missteps.
Trump's next coronavirus task force briefing -- typically attended by Fauci -- is gonna be interesting.
Originally Published -- 7:23 AM PT