George Floyd Officer Charged with Murder, 8 Minutes, 46 Seconds on George's Neck
George Floyd Killing
Cop Who Killed Floyd Arrested for Murder ...
8 Minutes, 46 Seconds on George's Neck
6:31 PM PT -- Chauvin's mugshot has just been released.
Former Minnesota police officer Derek Chauvin has been charged with 3rd-degree murder and 2nd-degree manslaughter, and according to the complaint he created "an unreasonable risk and taking a chance of causing death or great bodily harm to George Floyd."
The D.A. announced the charges Friday and said Chauvin is in custody, but the other 3 officers are still under investigation and no charges have been filed ... at least not yet.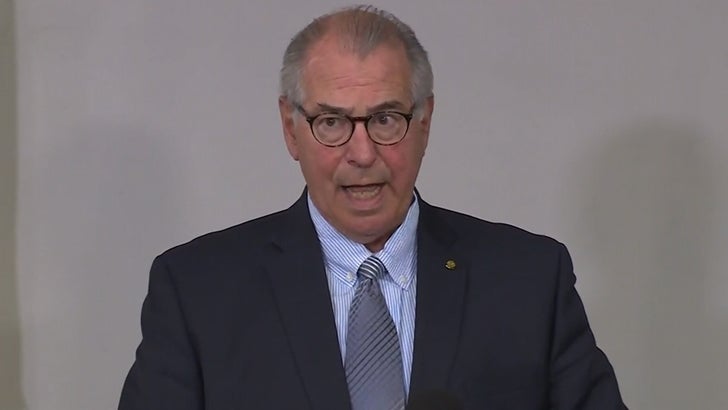 Fox 9
According to the complaint, an officer approached George Floyd's car and ordered him out at gunpoint, claiming he passed counterfeit currency. Once Floyd put his hands on the steering wheel, the cop holstered his gun.
The complaint says George "actively resisted being handcuffed." Once in cuffs, however, he became compliant, according to the complaint.
The complaint is based, in part, on the various body cam videos the D.A. reviewed. Cops told George he was being arrested for passing bogus money, and then walked him across the street to a squad car, where George "stiffened up, fell to the ground, and told the officers he was claustrophobic."
At that point, according to the complaint, Chauvin arrives on scene in his squad car. According to the complaint, cops made several attempts to get George in the back of the squad car, but he would not voluntarily go and struggled.
While standing outside the car, George repeatedly said he could not breathe. This is before Chauvin put his knee on George's neck.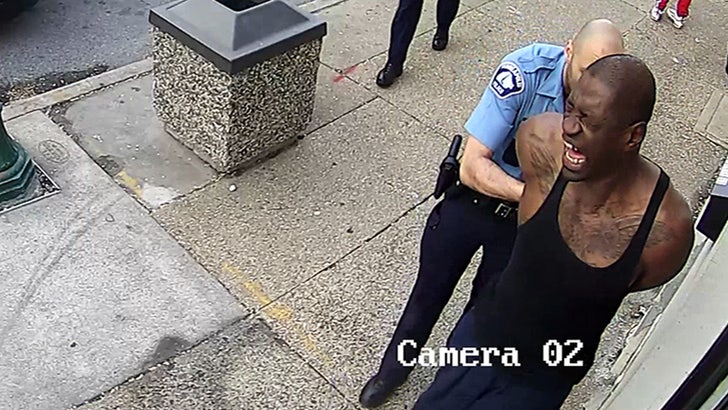 Dragon Wok
At 8:19 PM, Chauvin pulled George out of the squad car and Floyd went to the ground, handcuffed. There are 2 other officers on George's back and legs -- you can't see them in the video, but this is the moment when Chauvin placed his left knee on George's neck.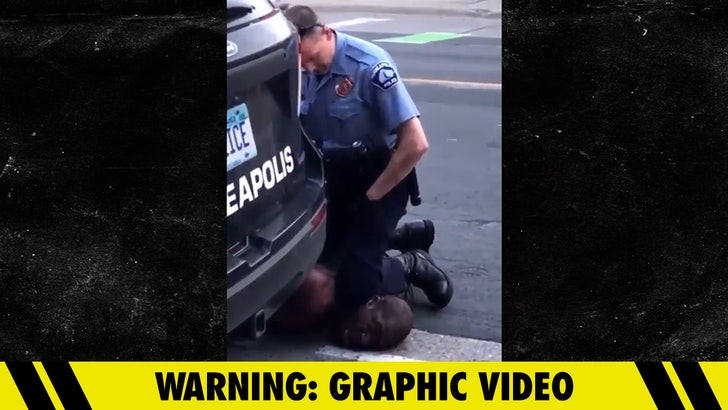 5/25/20
Facebook/ Darnella Frazier
George keeps saying, "I can't breathe" and "Mama" and "please." The officers said to George, "You are talking fine." One of the other officers said, "Should we roll him on his side?" and Chauvin replied, "No, staying put where we got him."
Another officer said, "I am worried about excited delirium or whatever." Chauvin said, "That's why we have him on his stomach."
At 8:24 PM, George stopped moving, and at 8:25 PM video appears to show him cease breathing or speaking.
At this point, another officer checks George's wrist for a pulse and says, "I couldn't find one." None of the officers moved from their position. At 8:27 Chauvin finally removed his knee. In all, Chauvin had his knee on George's neck for 8 minutes, 46 seconds ... 2 minutes, 53 seconds of that was AFTER GEORGE BECAME UNRESPONSIVE.
According to the complaint, "Police are trained that this type of restraint with a subject in a prone position is inherently dangerous."
The autopsy says George had underlying medical conditions, including coronary artery disease and hypertensive heart disease. The M.E. said, "The combined effects of Mr. Floyd being restrained by the police, his underlying health conditions and any potential intoxicants in his system likely contributed to his death." These are preliminary findings pending toxicology tests.
The M.E. does say there were no "physical findings to support diagnosis of traumatic asphyxia or strangulation."
The 3rd-degree murder charge carries a max sentence of 25 years.
Originally published -- 9:48 AM PT