Kanye Talks Harriet Tubman, Abortion & Possible Divorce at First Rally
Kanye West
First Campaign Rally
Talks Harriet Tubman, Abortion, Divorce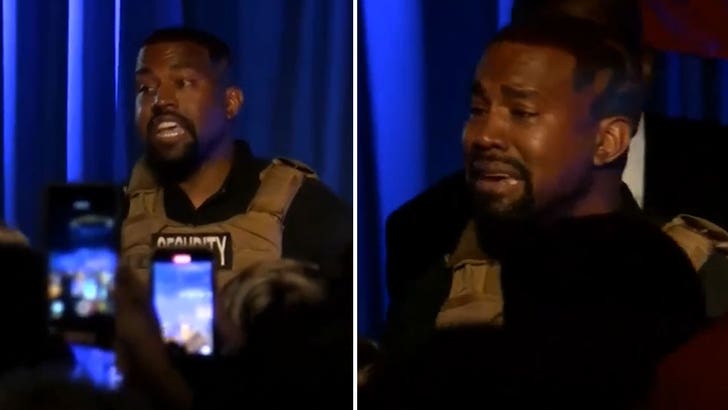 Live5News.com
Kanye West's first presidential rally just wrapped up and he stirred up lots of controversy by discussing Harriet Tubman, abortion and the possibility of divorcing Kim Kardashian West.
Ye held his first event as a candidate Sunday at the Exquis Event Center in North Charleston, SC -- and right off the bat ... it was unorganized and rowdy. He didn't even have a podium or a microphone to address the crowd, which was right up in his face.
At any rate, Kanye rambled through a number of topics -- oftentimes incoherently -- but one thing he said that came through crystal clear ... him suggesting that Harriet did NOT free slaves in her day, but just siphoned them off to other oppressive white folks.
That line drew jeers and groans from the crowd almost instantly -- we gotta say, it seriously reminded us of his "slavery was a choice" moment at TMZ a few years ago.
There's more. At one point, Ye launched into a rant about abortion, a woman's choice, etc. -- and he got incredibly emotional recounting a story about his then-girlfriend (now wife) Kim once telling him she was pregnant and how they considered not having the baby.
Kanye broke down sobbing while telling the story, saying that it hurt him because he confessed he did not want to have it ... which reminded him of his own father, who apparently didn't want him either when his own mother, Donda West, was pregnant.
It was a very personal thing to share, and Ye seemed to acknowledge as much when he followed up by saying it's possible Kim might wanna divorce him after this. He continued that train of thought, saying if she ever did ... he'd be thankful for her delivering North.
Ye went on to touch on a number of other subjects, including the fact that there weren't enough Black people in true positions of power -- including at Adidas, where he says he wants to sit on the board of directors, or else. Of course, he also talked about God and Jesus.
During the chaotic rally, Ye tried fielding questions from onlookers -- all of whom had to wear masks, but hardly any of whom were socially distanced -- but it mostly turned into a shouting match between himself and the rambunctious crowd. It was all hard to follow.
Probably not the greatest start for the Birthday Party campaign, but Kanye doesn't seem to mind ... he said he doesn't care if he wins the presidency or not. Why run then, right?
Anyway, up until today, Kanye seemed pretty serious about his presidential bid. TMZ broke the story ... Ye has filed docs with the Federal Election Commission, and he's also filed docs to get on the ballot in Oklahoma.
He tweeted Saturday, "Hi guys please sign up to put me on the ballot in South Carolina at any of these locations," and he went on to list various places, in addition to his 2020 website.
The first poll shows Kanye is pulling 2% of the vote. What's unclear ... between Biden and Trump, who gets hurt more and who benefits the most? What's also unclear ... if Ye's gonna go the distance after the train wreck that just occurred.
Originally Published -- 6:58 AM PT