Man Brutally Beats Up Asian Woman, Building Staff Suspended for Failing to Help
Asian Hate Crime
Man Brutally Beats Up Asian Woman ...
Staff Suspended for Not Helping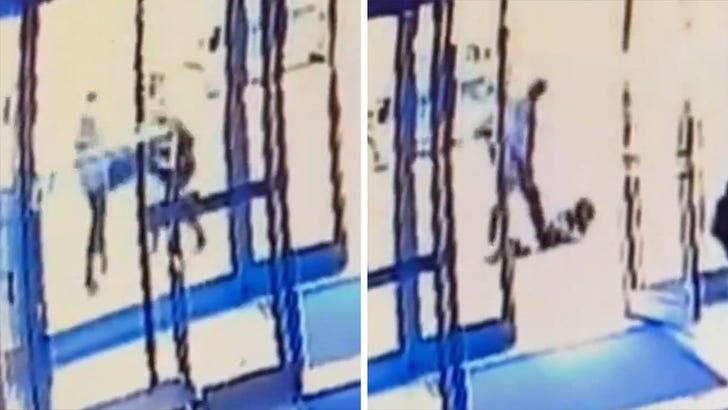 3/29/21
NYPD
9:39 AM PT -- NY Gov. Andrew Cuomo has addressed the assault, calling it "absolutely horrifying and repugnant." He says he's directing the state's Hate Crime Task Force to work with NYPD to catch the suspect.
Cuomo adds ... "Violence against our Asian American community is unfortunately becoming an epidemic in our state and across the nation, and it must stop now."
7:35 AM PT -- The members of the building staff who witnessed the violent attack and did nothing to help the woman have been suspended ... according to the Brodsky Organization, the company that manages the building.
The company says an investigation in conjunction with the workers' union is underway, and it's also trying to ID a third-party vendor who was present during the incident so "appropriate action can be taken."
A man is wanted for brutally assaulting an Asian woman in New York City in the middle of the day, and what's just as appalling is what didn't happen ... nobody jumped in to lend a hand.
Law enforcement sources say this went down Monday in Midtown Manhattan, where a 65-year-old woman was on her way to church ... when, all of a sudden, a complete stranger kicks her down to the ground and starts stomping her out. Before you know it, he flees the scene like nothing happened, but surveillance video captured the violence.
Cops say the guy made anti-Asian statements like, "F*** you, you don't belong here." The man has yet to be identified or arrested, but cops are on the lookout -- and the NYPD Hate Crimes Task Force is investigating.
Police did release this close-up shot of who they believe is responsible -- they're asking for the public's help to find him.
As for the woman, we're told she suffered a broken pelvis, as well as injuries to her head and leg ... but she's been released from the hospital.
Like that's not bad enough ... the video appears to show men observing this all from inside the lobby of a nearby building just feet away from the action. Not one of them springs up to help the woman, and one of them seems to close the door after the attacker splits.
Originally published -- 6:46 AM PT