NYC George Floyd Statue Vandal Seen in Video, 'Keepers' Plan to Patrol
George Floyd
NYC Statue Vandal Seen in Video ...
'Keepers' Plan Patrolling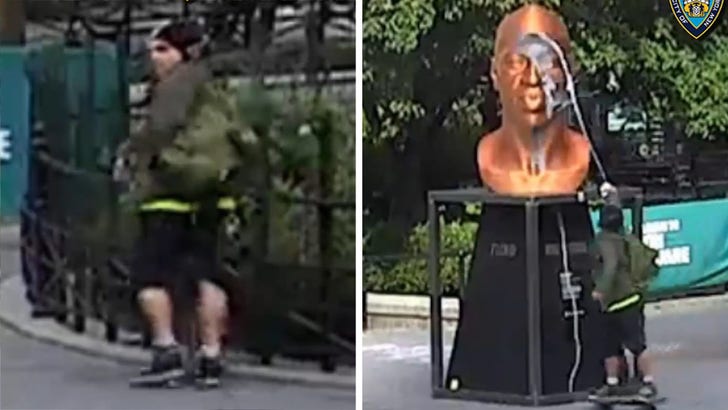 NYPD
9:00 AM PT -- The damage inflicted on the George Floyd bust in Union Square is already well on its way to being repaired -- and it's all thanks to some community members who stepped up, and who might continue stepping up to prevent this going forward.
Lindsay Eshelman -- co-founder of Confront Art, who teamed up with George's brother, Terrence, and his org We Are Floyd to produce the statues -- tells TMZ ... she and her team showed up shortly after news broke that the bust was vandalized, but were pleasantly surprised to see there were already at least 5 individuals working to clean up the mess.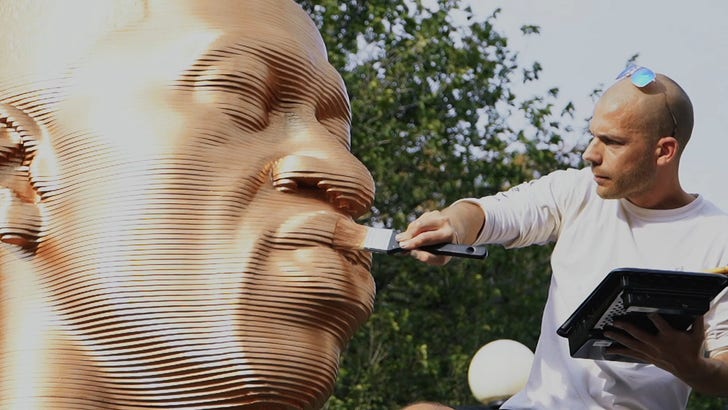 Andy Joel from Seven Media
We're told these folks are simply activists/art lovers -- and included one tourist who just showed up to help. One of the other good Samaritans was Eric Garner's son, Eric Jr., whom we're told formed a close bond with Terrence through this entire ordeal. Lindsay and co. also chipped in ... running out to get supplies to restore the statue's bronze shine.
As for what to expect from here ... Eshelman tells us she and Confront Art are trying organize a watch group to look after the statue, otherwise known as "keepers" -- as there are 30 days left in the installation, and they're worried this might happen again.
The NYPD has apparently told them they're on their own in this regard, 'cause the police force won't step up security or patrols. We're told CA has a 7 AM to midnight shift in mind, to help keep things kosher after the park closes there.
The man who threw paint onto a bust of George Floyd in NYC is now in the crosshairs of a hate crime unit ... and can be seen clear as day on camera doing the deed.
The NYPD's Crime Stoppers division released surveillance video they say depicts the suspect -- a guy with a light complexion, medium build ... and who was wearing a green jacket, shorts and a hat of some sort, and who cruised by nonchalantly before vandalizing the statue.
Just as we told you before ... he's seen clear as day hanging out near the John Lewis statue in Union Square, shuffling about and looking around -- before he busts out what seems to be a small paint can, hopping on his skateboard and heading for the bronze Floyd effigy.
Sure enough, there are some people around who get a good look at him doing it ... but no one really springs into action. It all happens so fast -- the man is gone in a flash.
We're told the NYPD Hate Crime Task Force is investigating this ... for obvious reasons. So far, the alleged perp hasn't been captured -- but cops are asking for tips or any help.
This weekend's paint job actually served as the second act of vandalism since the statue was first unveiled earlier this summer in Brooklyn ... where it was also defaced, with none other than white supremacy logos and signage. And now, at its new, home ... something similar.
Originally Published -- 6:32 AM PT