Nicki Minaj and Latto Beef Erupts Over Grammys, Latto Releases Phone Convo
Nicki Minaj vs. Latto
Grammy Noms War Gets Ugly, Quick!!!
Phone Convo, Texts Exposed
Nicki Minaj and Latto are at each other's throats ... arguing about which Grammy categories their songs belong in and there's nothing sacred in this war, as they're both putting private convos on front street.
Both rappers had been subtweeting each other for weeks about the Grammy's decision to move Nicki's smash hit "Super Freaky Girl" from the Rap category to Pop, and Thursday night the feud erupted like a volcano.
As Nicki sees it, Latto should have spoken up in her defense ... seeing as how the Grammys left her record, "Big Energy," in the Rap category, despite having the same bubbly pop sound.
Nicki then began to retweet Barbz who were dissing Latto's silence on the subject ... prompting Latto to tweet, she "can't win for losing." That's when Nicki posted a DM convo where Latto agreed with Nicki's viewpoints, but said she didn't like the fact Nicki put her in the beef.
Then the gloves really came off.
I've ignored countless subtweets since March and instead addressed u in the dm. You're asking why I didn't speak up in ur defense… it's the same answer I gave u when u asked why I didn't congratulate you. Ur literally older than my mom tryna be a bully @NICKIMINAJ

— BIG LATTO 🎰 (@Latto) October 14, 2022 @Latto
Nicki called Latto a "Karen" and "Scratch-Off" ... posted more DMs, including one where she turned down Latto's attempt to collaborate on the "Big Energy" remix.
Latto fired back, calling Nicki a 40-year-old bully, and uploaded a recorded phone conversation they had on the Grammy topic ... and you hear both women going at it!!!
Latto accused Nicki of having "only child syndrome" because, at one time, she was the only female rap star in the game -- to which, Nicki scolded her with, "You didn't do your research!"
As of now, there's no resolution, and fans don't expect one.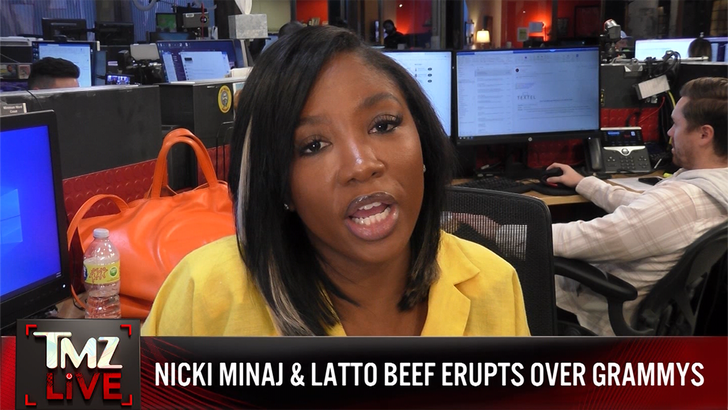 TMZ.com
This is kinda Nicki's thing now -- if it's not Latto, it's Cardi B ... she's got lots o' beef on her plate!!!