Frontier Airline Passengers Getting Physical With Flight Attendants in New Video
Frontier Airlines
Female Passengers Get Physical
... Beef W/ Flight Attendants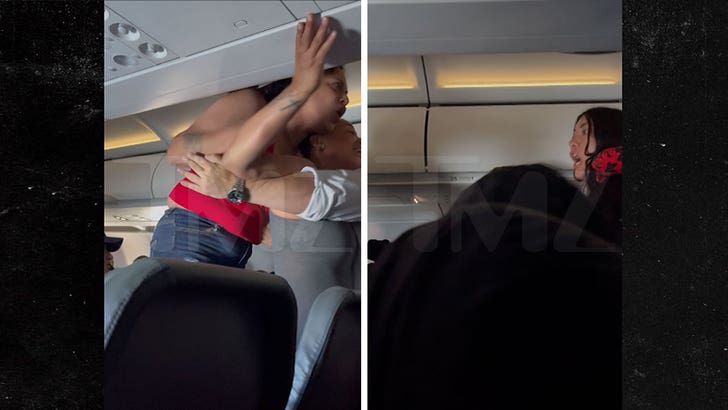 TMZ.com
New footage from a diverted Frontier Airlines shows several women involved not only verbally attacking flight attendants and travelers ... but getting physical with them, too.
The video, obtained by TMZ, shows a different angle of the altercation aboard the Frontier flight from Philly to Las Vegas. You see flight attendants trying to restrain two women from going after other passengers.
Folks on flight 2143 last week tell TMZ ... the women got into a dispute, and it spiraled out of control ... eventually leading to hands thrown.
Passengers tell us one of the women may have spilled a drink on a man sitting nearby, kicking off a verbal dispute between the women ... eventually, we're told, another man shouted at them to "shut the f*** up."
The witness tells us one of the women then turned her attention to that man ... before flight attendants stepped in to try to stop her.
Frontier tells us the flight was diverted to Denver, and the women were taken off the plane and met at the gate by officers from the Denver Police Department. The airline says the plane then took off for Vegas after 67 minutes on the ground in Denver.
Meanwhile, Denver PD tells us they did not arrest the women ... and we've reached out to the FBI, which usually handles crimes that occur on planes midflight.
But, the FBI says its agents did not respond in person to the incident, adding that the U.S. Attorney's Office for Colorado will file criminal charges in the case if prosecutors have enough evidence.