Topher Grace's Isolation on ''70s Show' Vindicated After Masterson Sentence
Topher Grace
''70s Show' Isolation Vindicated ...
After Masterson Sentence
Topher Grace was once labeled an outsider on the set of 'That '70s Show' -- but after Danny Masterson's imprisonment this week ... many are saying he was right to steer clear.
There have been a lot of reactions in the wake of DM getting sentenced to 30 years behind bars Thursday -- this after he was convicted of raping 2 women back in the early 2000s ... and one of those is a re-examination of Topher's rep as a cast member on their sitcom.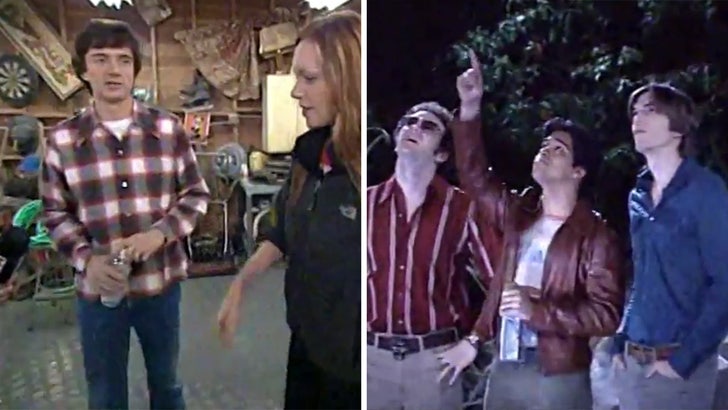 E!/NBCUniversal
This was well-documented at the time -- especially on E!'s True Hollywood Story ... essentially, it was known that Topher simply wasn't all that close to the boys in the cast. While Ashton Kutcher, Wilmer Valderrama and Danny would hit the town together once cameras stopped rolling ... TG kept to himself, and would just go home after work.
The way he was portrayed back then was ... not that great. Topher was often painted as a snob and it sounds like people thought he felt he was too good for Danny and co.
For years, Topher Grace was depicted like he was a stuck-up asshole for not being besties with the rest of the That '70s Show cast, but guess who didn't write a letter in defense of a rapist this year... pic.twitter.com/fqnkOl27Z1

— 𝒥𝒶𝓈𝓂𝒾𝓃🐷 (@jasminpigemoji) September 8, 2023 @jasminpigemoji
Now, though, after his one-time costar is being sent to the slammer ... Twitter/X is making Topher trend all over again -- pointing out he was, perhaps, wise to keep his distance.
A lot of people also seem to find it funny that him being a mere introvert -- and maintaining a work-life balance -- was met with raised eyebrows by folks on the production ... as if that was abnormal. In 2023, it appears more people can relate to his 9-5 attitude than back then.
Of course, the Topher analysis is also being held in stark contrast to what Ashton and his wife/costar, Mila Kunis, did in this whole saga ... namely, going to bat for Danny in court.
You'll recall -- it was revealed they wrote separate letters to the judge ahead of Danny's sentencing hearing, explaining why he was such a great guy ... and asking for leniency. Take a look online, and you'll see they're getting crapped on big time for sticking by him.
Now, while Topher has yet to publicly comment on the Masterson scandal -- it appears his feelings are being telegraphed elsewhere ... specifically, from his wife Ashley Hinshaw.
She took to IG and wrote, "To every rape victim that is [re-traumatized] by witnessing society debate and focus their attention on what is going to happen to the RAPIST...I see you." Seeing how they're in the same household, it's safe to say Topher might feel the same.
Things sure do come full circle, don't they?
We covered it all on the latest episode of The TMZ Podcast, available on all podcast platforms.