Masterson Accuser Resurfaces Icky Clips Showing Ashton Kutcher, Mila Kunis
Danny Masterson Accuser
Torches Ashton Kutcher ...
Resurfaces Icky 2000s Clips
One of Danny Masterson's accusers is taking Ashton Kutcher to the woodshed after his in-court support of his old pal -- and doing it by resurfacing old footage that hasn't aged well.
Chrissie Bixler -- who dated Danny back in the day, but who has since come forward as one of several women to claim he raped her -- took to IG this weekend to invoke DM's "That '70s Show" costar ... who wrote a letter on Masterson's behalf seeking leniency.
In a series of IG Stories, she threw up a ton of old clips that show Ashton and his wife, Mila Kunis, interacting together ... as well as one of Mila and Danny that certainly feels icky.
One clips shows Ashton on his old show, 'Punk'd,' and it's the Hilary Duff episode. At the time, she was underage -- and Ashton says she's one of the girls in Hollywood that "we're all waiting for to turn 18." Two other clips she posted show Ashton/Mila talking about the first time they met, and how they first kissed on set. This is well known, but Mila was 14 when she got hired on "That '70s Show" ... and Ashton was about 5 years older than her, at 19.
There's yet another clip that shows Mila and Danny promoting the show, in which Mila addresses her young age when she first started -- and Danny saying she was hotter then.
The point is ... Chrissie is strongly suggesting that Danny, Ashton and Mila were all cut from the same cloth -- which, of course, comes on the heels of the couple issuing a public mea culpa for their letters. Sounds like Chrissie is throwing that apology back in their face.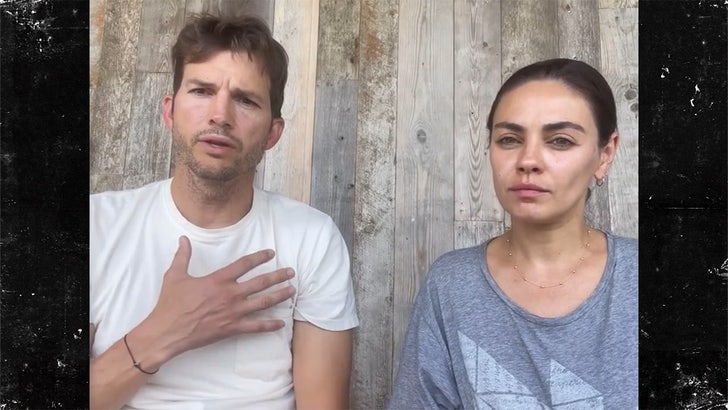 9/9/23
BTW, another huge star also appears to have weighed in on this saga ... Christina Ricci.
The actress took to Instagram herself with a lengthy message but doesn't name Danny, Ashton or Mila specifically. Still, it seems pretty evident who she's referring to here.
CR writes, "So sometimes people we have loved and admired do horrible things They might not do these things to us and we only who they were to us but that doesn't mean they didn't do the horrible things and to discredit the abused is a crime."
She adds, "People we know as 'awesome guys' can be predators and abusers. It's tough to accept but we have to. If we say we support victims -- women, children, men, boys -- then we must be able to take this stance." Christina says she came to learn that some of these "awesome guys," who seemed great in public, were abusers in behind closed doors.
Christina finishes with this, "Believe victims. It's not easy to come forward. It's not easy to get a conviction."
We covered it all on the latest episode of The TMZ Podcast, available on all podcast platforms.