Aaron Rodgers Out For Season With Torn Achilles
Aaron Rodgers
Out For Season
... With Torn Achilles
1:31 PM PT -- Jets coach Robert Saleh addressed Aaron Rodgers' injury with reporters on Tuesday ... and while he said he feels for the quarterback, he makes it clear his team is not going to give up on the season.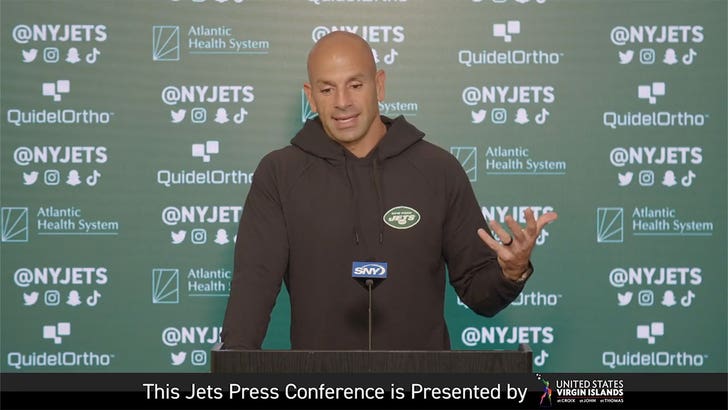 New York Jets
"I don't look at it like a 'woe is me' here for the organization," Saleh said. "I think guys are excited about being able to step up and continue the things that we've been building. But a lot of hurt for Aaron."
Saleh added Zach Wilson will lead the team moving forward ... and he has a lot of confidence in the young QB.
Aaron Rodgers' first season with the Jets is over before it could ever take off -- the superstar quarterback suffered a torn Achilles in his first-ever game for New York, officially ending his 2023 campaign.
The team confirmed the devastating news on Tuesday ... announcing the 39-year-old Super Bowl champion will be sidelined for the rest of the season after an MRI revealed a complete tear in his left Achilles tendon.
Rodgers went down in the Jets' fourth offensive snap of Monday Night Football against Buffalo ... when Bills linebacker Leonard Floyd tackled him to the turf.
Initial x-rays came back negative ... and there was a small possibility Rodgers may have just had a high ankle sprain.
Unfortunately for Rodgers and Co., Tuesday's scans confirmed the worst.
Now, the once-Super Bowl hopefuls will turn to backup Zach Wilson ... in hopes of having a successful season without their star QB under center.
Rodgers has experienced numerous injuries throughout his career ... but this is by far the most serious, and many are wondering if he will be able to bounce back and return to his dominant ways.
Now that Aaron's out for the rest of the season with a torn Achilles, do you think it's the end of his football career? Vote below.
Originally Published -- 8:13 AM PT