'Special Forces' Star Tyler Cameron Says Tom Sandoval Has Good Heart
'Special Forces' Star Tyler Cameron
Tom Sandoval Has a Good ❤️ ...
Here's Love Advice from Me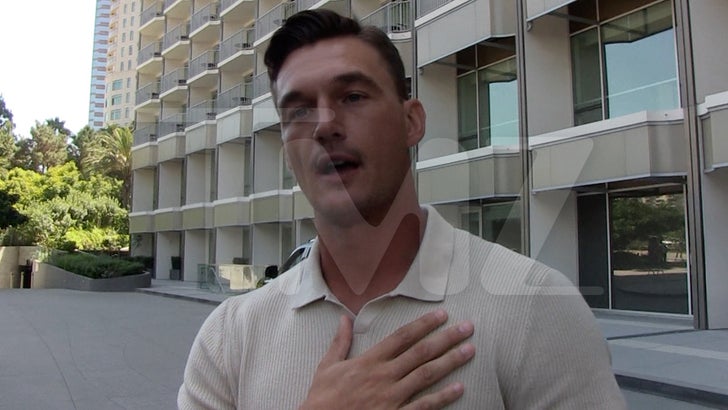 TMZ.com
Tom Sandoval is a good dude who did a bad thing, but deserves a second chance -- so says another guy well-versed in reality TV romance ... Mr. Tyler Cameron.
We got the 'Bachelorette' alum Tuesday in L.A., and since he's fresh off hanging with Tom on FOX's "Special Forces: World's Toughest Test" ... we asked about Sandoval's chances of rekindling with his 'Vanderpump' costar Rachel Leviss.
If ya missed it, Tom wished Rachel happy birthday on social media, only for her to block him with quickness.
Ty says getting blocked is never a good sign for reconciliation -- speaking from personal experience -- so on the prospect of TS and RL getting back together ... he's not hopeful.
Now, on the issue of Tom's character ... Tyler says he actually thinks the guy's got a good heart. The fellas got to know each other not too long ago while competing on the FOX reality show.
Tyler explains to us what he learned about Tom while shooting the show, and it's pretty illuminating. Sounds like Tyler believes Tom should be shown some grace.
Lastly, Tyler offers some relationship advice and it's simple, yet effective. One gal at a time is the takeaway here -- and based on what we've seen from Tom these past couple days ... it appears he's already putting TC's tips to good use.
BTW, if you wanna see what Tom and Ty's dynamic was under grueling conditions -- watch "Special Forces: World's Toughest Test" premiering Monday, Sept. 25 at 9 PM ET/PT on FOX.