*NSYNC's First New Song in 2 Decades Revealed, Featured in 'Trolls' Sequel
*NSYNC
New Song Revealed!!!
Their First in 2+ Decades
*NSYNC fans are finally getting a taste of the group's brand new song that has all 5 guys joining forces in the studio to lay down a track for the new 'Trolls' flick.
The group's song is called "Better Place," and it's teased near the end of the latest trailer for "Trolls Band Together." It dropped Wednesday night, giving folks a glimpse of what's likely to become a new hit ... especially because they last recorded a song in 2002.
The movie, led by Justin Timberlake's character, is all about getting his former boy band back together, so *NSYNC obviously was a perfect choice. Their 1997 song, "I Want You Back," can also be heard in the new trailer.
Waiting for your permission to load the Instagram Media.
Remember, TMZ confirmed rumors the group was jumping back in the studio to record a track for the new movie ... but we were told they don't have any plans to come out with a whole album or go on tour.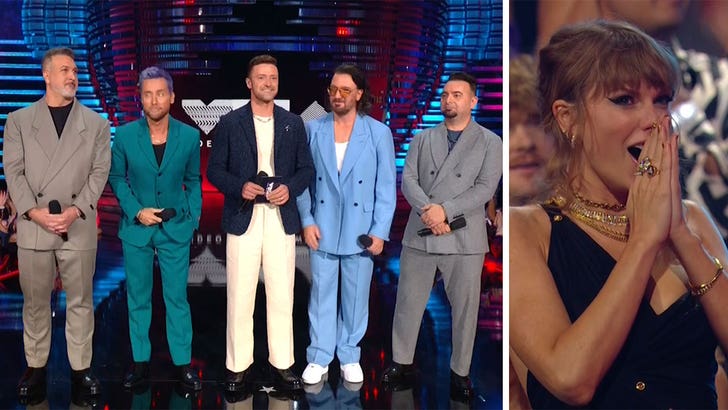 9/12/23
MTV
You'll recall, *NSYNC whipped fans into a frenzy Tuesday night at the MTV VMAs, where they appeared onstage to present the Best Pop Video award -- which went to Taylor Swift, who was fangirling to the max over the gang's reunion.
Folks wanting to hear the full track will have to wait until September 29, but portions of it are popping up on TikTok ... that's gonna have to satisfy the die-hards, for now!!!
Do you think *NSYNC should release a new album? Let us know by voting in our game below.