Hugh Jackman Addresses Split with Wife on Camera, Calls It Difficult Time
Hugh Jackman
Addresses Split w/ Wife on Camera
... Calls It Difficult Time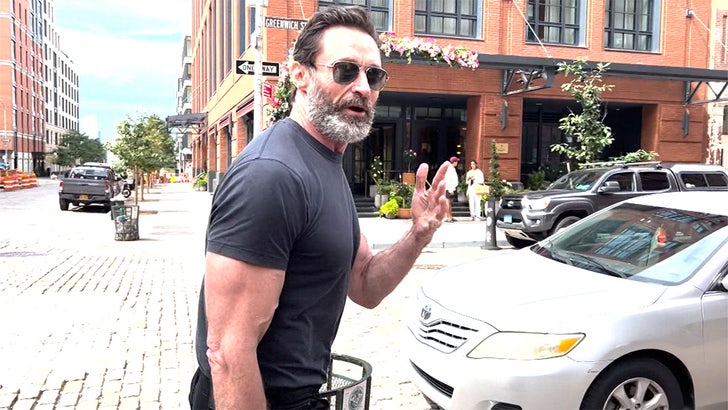 BACKGRID
Hugh Jackman isn't quite ready to talk about his split from his wife beyond what he's already said in a statement -- but even when pressed by a photog ... the dude was all class.
The actor was approached by a pap Saturday in NYC, where he got peppered with questions about his separation from Deborra-lee Furness -- whom Hugh has been married to for the last 27 years ... and which came out of nowhere Friday in a shock announcement.
Check out what he had to say about it in person ... the videographer was wondering what sort of personal growth he and Deborra-lee would be pursuing -- something they alluded to in their remarks -- and Hugh actually gave the guy the time of day, in a very polite way.
For starters, HJ says he doesn't feel right discussing the matter right then and there in an impromptu interview -- which is fair. He says he appreciates the photog's thoughts, but when the guy pushes a bit further ... Hugh says flat out, they're going through a hard time.
The pap pivots to "Deadpool 3" and asks when he thinks they might be able to resume filming -- and Hugh says as soon as they're allowed to ... referencing the ongoing strike.
Like we said ... he couldn't have been more graceful here. Considering how personal of a situation it is and Hugh's private nature -- he handled this interaction as well as possible.
Hugh and Debora-lee were one of these longtime couples who everyone thought would stand the test of time ... but as we've seen a lot this year already, some of the sturdiest relationships in Hollywood are seeing their end.
Here's to happier times, Hugh. Be well.