L.A. Personality Angelyne Selling One of Her Pink Corvettes to Finish Movie
Angelyne
L.A. Icon Sells Famed Pink 'Vette
... $$$ to Finish Her Movie
Angelyne is doin' something that will shock most L.A. natives -- the media personality is selling one of her iconic pink Corvettes in a last-ditch effort to complete her self-produced biopic.
Angelyne tells TMZ ... she's unloading one of her famous rides for a whopping $200k, or the best offer she can get, with the cash going to help wrap up the movie she's making about herself.
She says she's owned the bright ride since 2008, but is almost done with the flick apart from music, coloring, and sound tweaks, so it's essential she come up with the funds. Angelyne tells us the finances from the sale of the car will allow her to maintain creative control of the film, which is important to her.
Angelyne says she's gotten some lowball offers in the past few days but is holding out for the $200k to come rolling in -- and not to worry, Angelenos, she still has 3 other pink 'Vettes left ... so she'll still be recognizable around town.
For those unaware, Angelyne has been a West Coast icon since the 1980s, often spotted driving around the city in one of the 11 pink Corvettes she's owned in her lifetime. She also gained a lot of attention when she appeared on a series of billboards that simply had her name on it and a raunchy pic of her.
Apart from her local fame, she appeared with the soon-to-be-sold Corvette in the 2017 film, "The Disaster Artist," with James Franco and Seth Rogen.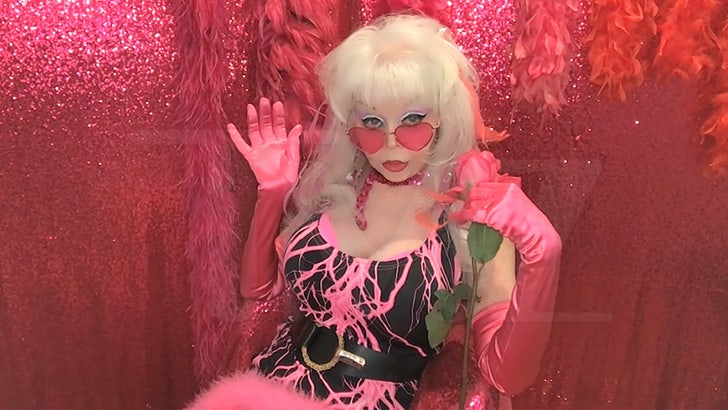 TMZ.com
She talked to us last year about why she wasn't a fan of Emmy Rossum's portrayal of her in the Peacock series about her ... which is when she revealed she was working on her own movie.