Band Director Tasered by Cops After Refusing to Shut Down Performance
Band Director
Tasered by Cops ...
Refused to Stop Show!!!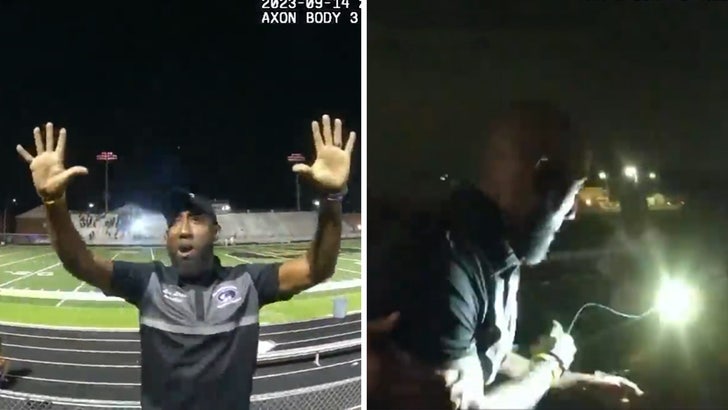 Birmingham Police Department
An Alabama high school band director was in for a shock after refusing to stop a musical performance that cops asked him to stop -- and we mean he literally got a shock!
Johnny Mims was arrested Thursday in Birmingham for disorderly conduct and a slew of other charges, after police say he disobeyed their orders to tell his band kids to stop playing after a football game had ended, as the school was trying to clear the place out.
New body cam footage was released showing last week's confrontation, and it's pretty wild. The guy basically tells cops to piss off, refusing to halt things ... and then getting Tasered.
It's unclear why Mims didn't wanna comply, but what is clear is that he was dead-set on doing this last song with the band in the stands -- even though the game was long over. Supposedly, this follows in some sort of "5th quarter" tradition, but, on its face, it's bizarre.
Anyway, things escalated quickly. The first officer who responds tells Mims it's time to go and that he's gotta wrap it up ... but Mims tells him to get out of his face, continuing to conduct even though the cop was standing right in front of him. The band kids kept playing loudly too.
Eventually, more officers arrived, and they attempted to restrain/cuff Mims, which led to a clear struggle between the cops. Other folks appear to have gotten in the mix as well.
At a point, one cop threatens to tase Mims if he doesn't settle down ... and then the electricity starts flowing. He looks to have been zapped at least 3 times.
Now, in the aftermath, Mims claims excessive force was used on him. Birmingham PD says there's an internal investigation over this ... but no word on officers being reprimanded yet.