Jonathan Majors Calls Girlfriend Meagan Good 'Missus' at D.C. Gala
Jonathan Majors
Calls Meagan Good 'Missus' ...
Hinting at Marriage?!?
Jonathan Majors just dropped a major hint that he and Meagan Good might be husband and wife -- 'cause the dude called her something you really only say when you're married.
The actor was at the Black and White Gala in D.C. Saturday night -- which was hosted by the Congressional Black Caucus. Meagan was one of the key people speaking at this shindig -- and it looks like JM was backing her up on stage.
Meagan said she was happy to be there and to see so many Black faces come out for a positive cause. Toward the end of her brief remarks, she turned to Jonathan and said ... "Babe, you want to say anything?"
His response is telling ... Jon replied, "Y'all heard the missus, so that's what it is."
The crowd's reaction was kinda two-fold ... they cheered with praise, but there was also a sense of ooh'ing and ahh'ing over what he'd just implied -- namely, that she's Mrs. Majors.
There wasn't any further elaboration from either Jonathan or Meagan, but people are off to the races online with the intrigue. Obviously, that'd be a huge deal if they were, in fact, hitched ... as they've only been together as a couple for a handful of months now.
While their relationship is seemingly fairly new -- they've been tied at the hip, both here in the States and abroad. We've seen Jon and Meagan jet-setting all over the world of late, and when it comes to his criminal case in NYC ... she's been right by his side there too.
Meagan has caught flak by some for standing by him amid disturbing allegations -- but she clearly feels he's an upstanding dude. Mind you, JM has claimed innocence from the start.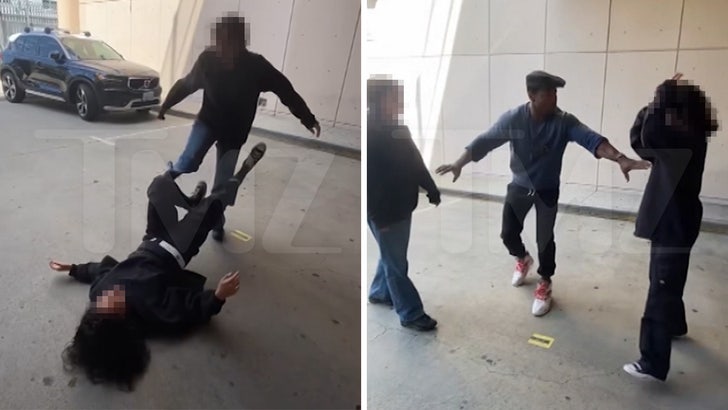 TMZ.com
We've also seen Jon do the right thing in public amid this tumultuous time -- just the other week, he was out here in L.A. breaking up a fight between high school kids.