Ja Morant Surprises Kids In Memphis W/ Free Nike Kicks, Hoop Sesh
Ja Morant
Surprises Kids In Memphis
w/ Nike Kicks, Hoop Sesh
Ja Morant's been laying low, but the Grizzlies superstar just made a rare appearance, surprising a bunch of kids at a Memphis basketball court ... hooking everyone up with his signature Nike kicks during hoop sesh!
24-year-old Morant, who will serve a 25-game suspension to start the season, along with Nike held the "Only Basketball" event this week ... and as you'd expect, the kids were super hyped when the 2x All-Star pulled up to the gym.
Waiting for your permission to load the Instagram Media.
And, not only did Morant ball out with the youngsters (including throwing down a massive dunk) ... he also gifted the young athletes his Ja 1s, along with other athletic gear.
Morant even offered some advice to the kids, encouraging them to stay focused on the game and stay away from the outside noise.
"Believe in yourself," Morant said. "You know have confidence in yourself."
"There's going to be a lot of outside stuff that can distract you from your ultimate goal. Just stay locked in, tune it out, and stay true to yourself."
BTW, the new "Chimney" colorway for the Ja 1 Nike's were revealed this week ... and they feature his iconic phrase, "We ain't ducking no smoke" on the side. They'll drop later this year.
Morant has been virtually nonexistent this off-season ... laying low after the controversy from his second gun video rocked the NBA.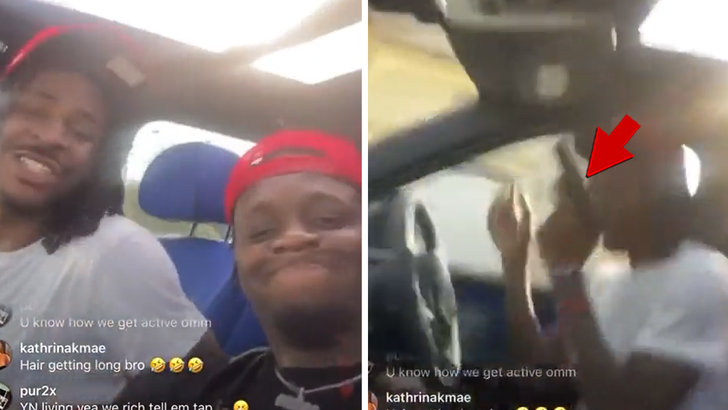 5/14/23
Instagram / @_dtap2
Of course, Ja flashed a gun on his friend's Instagram Live (just two months after the first incident with a handgun in a Denver-area strip club in March) ... resulting in the 25-game ban.
Despite all the backlash Morant received, Nike decided to stick with the young star ... and so far, it seems to be panning out for both.