Brittany Renner Reveals She's Had Sex With 35 Men, Stuns Shannon Sharpe
Brittany Renner
'I've Had Sex With 35 Guys'
... Stuns Shannon Sharpe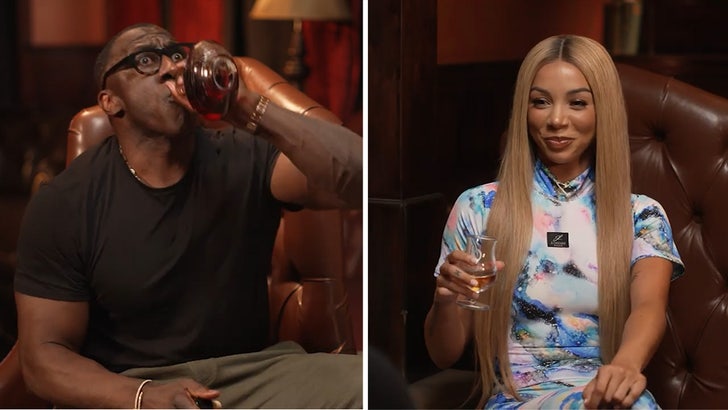 Club Shay Shay
Brittany Renner just opened up about her sex life to Shannon Sharpe in a big way ... revealing she's slept with 35 men -- a number that stunned the Pro Football Hall of Famer so much, he had to take a big swig of booze.
The "Basketball Wives" star made the remark while chatting with Sharpe on his "Club Shay Shay" podcast about Derek Jeter's dating life.
Renner said to Sharpe her roster of partners was very comparable to the Yankees legend's ... and then she told the former Denver Broncos star her body count.
Sharpe then reacted as if he had seen a ghost ... nearly spitting up his water -- before shooting some booze.
"Oh, lord!" the ex-NFLer said. "Anybody else need a shot of this?! We are in a bar, so help yourself!"
Renner took the intimate conversation even further moments later ... telling Sharpe she once caught a yeast infection after having sex with three men within 24 hours.
The deep convo didn't just stop there, though ... 'cause the two then dove into her relationship with her ex, NBA player P.J. Washington.
Renner explained she had been on birth control for a decade prior to getting with the Charlotte Hornets forward ... but she decided to go off of it to have a child with Washington because she thought he "was my guy."
"I thought I was doin' it right," she said.
Club Shay Shay
Renner went on to say she's cool with Washington despite their split ... lauding his recent engagement to Alisah Chanel.
"I've sat down with his fiancée," Renner said. "We've had a four-hour conversation out for brunch."
"I think they're a perfect match for each other, quite frankly."