Kevin Spacey Sued By Massage Therapist, Allegedly Pressed for Sexual Favors
Kevin Spacey
Massage Therapist Sues ...
Allegedly Pushed For Sexual Favors
Kevin Spacey booked a massage therapist and then made sexual advances and offered to pay extra money in exchange for sexual favors during the massage ... according to a new lawsuit.
The actor is being sued by a male massage therapist in New York who claims Spacey booked three 90-minute massages in August and September 2016 in a room at the New York Edition Hotel.
In the docs, obtained by TMZ, the message therapist claims Spacey made unwanted and inappropriate sexual advances and repeatedly pressed him for sexual favors, including him insisting on starting the massage with a focus on the buttocks.
The therapist says Spacey also insisted on doing yoga poses during the massage, exposing Spacey's butt and genitals in the process and making the therapist feel uncomfortable.
In the suit, the therapist claims Spacey repeatedly became sexually aroused during the sessions and even offered extra money in exchange for sexual favors. He also says Spacey repeatedly made sexual comments on his looks and physique.
What's more, the masseuse claims Spacey grabbed the therapist's hand and tried to place it on his genitals, despite the therapist repeatedly rejecting Spacey's alleged advances.
The massage therapist says Spacey booked the appointments through an app, using a different name ... meaning he never knew he was going to see Spacey until he got into the room. He also says Spacey "insisted upon wearing a ski mask" during the appointments.
After the third alleged incident, the masseuse claims he stopped taking appointments altogether at the hotel Spacey allegedly frequented.
The massage therapist claims the Spacey sessions resulted in mental and emotional distress ... saying he still suffers from anxiety, depression, PTSD, and fears for his livelihood as a massage therapist, husband and father.
The masseuse is going after Spacey for damages.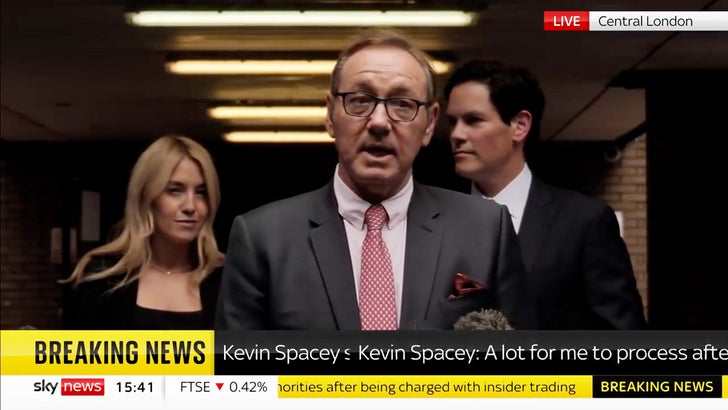 7/26/23
sky news
The lawsuit comes a couple months after Spacey was found not guilty on sexual assault charges in the United Kingdom.
As we previously reported ... Spacey was accused of forcing a different male massage therapist to touch his genitals during an in-home massage in 2016, an accusation Spacey denied, and the case was dropped when the alleged victim died during the investigation.
We reached out to Spacey's camp about the most recent lawsuit ... so far no word back.