Julia Fox Makes Wild Claims Against Kanye West in Tell-All Book
Julia Fox
Kanye Relationship Was Fake AF ...
Paraded Me Like a Trophy
Julia Fox says her relationship with Kanye West was all for show -- claiming she was used as a prop for Ye ... something she can now talk about 'cause she didn't sign a legal doc.
The actress/influencer spills the alleged beans in her new memoir, "Down the Drain," which just hit the shelves Tuesday ... and according to Page Six, she details her whirlwind romance with Kanye that lasted for just a couple months starting at the tail end of 2021.
Per JF, Ye first entered her life when a friend of hers asked to pass along her number to him ... apparently, he'd inquired about her. Once she connected with Ye, Julia says he called her dozens of times ... and that they talked for a long time, noting it was mostly him yapping.
Eventually, he invited her to join him for NYE down in Miami ... and flew her and her friends out, leading to their now-famous first public date. However, it sounds like their first face-to-face meeting actually happened at a club -- where they got touchy-feely pretty quickly.
During their initial in-club meeting in Miami, Julia says Kanye took her out to a parking lot at one point ... claiming he took a piss right there in public, spurring her to block and cover him from gawkers. Once he finished and zipped up, she says they made out hot and heavy.
The next day, at Carbone, Julia says Ye bluntly asked her to be his girlfriend and if she was cool taking their new union public -- it was at this point JF says she felt like the whole thing was a sham, considering photos of that exact moment were being snapped by a pap.
Shortly thereafter, Julia says she was asked to showcase several outfits arranged by Ye ... saying she felt like a "show monkey." During one of these fittings, she felt like a certain top didn't feel right -- to which Ye allegedly replied, "I'll get you a boob job if you want."
Julia says their pairing continued to feel manufactured ... saying Ye sent a bunch of photos of them to an outlet and asked her to write a blurb. She writes, "I feel like he's using me in some weird, twisted game. It makes me feel dirty."
Eventually, they went to Paris -- which was memorable fashion-wise -- and she says they argued a lot there ... which even led to them getting chastised as a big shot party.
Once she was back in NYC, toward the end of it all, Julia says Kanye invited her and her friends to a hotel ... where he gifted them Birkin bags, something JF describes as feeling like a farewell present from him. She also says he made them recreate the opening sequence of the Birkin gifting video several times, and claims he made them pose for staged pictures. Again, more fakery.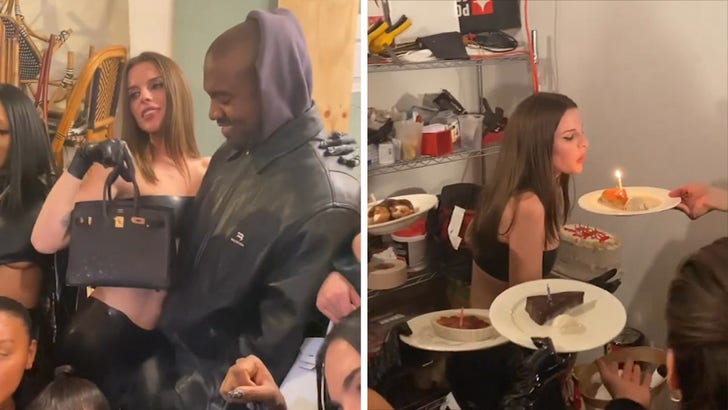 @ksace_ , @sarapplemaliki, @bendraghi / Instagram
BTW, in the midst of all this ... Julia says Kanye sent her an NDA to sign, which she never did -- and that finally came back to serve as the final nail in the coffin. She says he said they couldn't continue seeing each other if she didn't sign it -- and she was fine with that.
Julia also says Ye confronted her about her previous drug use -- something that had apparently been flagged to him by Kim -- and she felt that was a low blow. In the end, Julia says the whole experience was hollow ... and FWIW, she also says they never banged!