Taylor Swift Fans Sell Off Their 'Eras Tour' Film Premiere Collectibles
Taylor Swift
Fans Selling 'Eras' Premiere Swag ...
Popcorn Tin For $100!!!
Taylor Swift's fans are passionate and entrepreneurial, already cashing in on their free goodies from her 'Eras Tour' film premiere by hawking little things like a popcorn tin and cup ... for a couple hundy!!!
The 2,200 Swifties lucky enough to have been invited to the worldwide debut of Taylor's movie Wednesday night in L.A., hopped on eBay the next day in hopes of pocketing some extra dough -- pawning off souvenirs they got at the theater.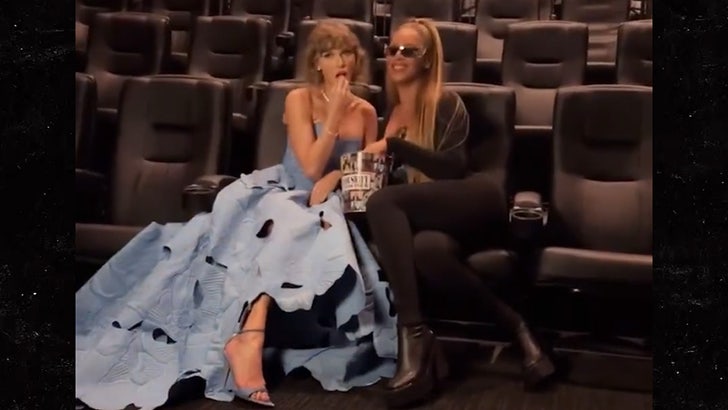 10/11/23
For instance, that popcorn bucket Beyoncé and Taylor were eating out of when Bey made her surprise appearance -- not the actual one, but one like it -- could fetch a hefty profit.
These sellers are no joke, BTW ... some are asking up to $250 for 2 items -- adding a drink cup to go with the popcorn bucket. Most listings, though, are around $100 right now, and a couple of them even include the tote bag and poster fans also got.
Remember, they got all of this stuff for free -- so, any amount they get is a profit.
Here's the kicker, the bucket and cup aren't even exclusive to the big event -- in fact, they're the same ones the general public can buy at all AMC Theaters, where the flick is playing exclusively.
The tin only costs $19.89 at the theater -- a nod to her 2014 album title and its upcoming rerelease -- and the large cup is $11.99.
It's worth mentioning, those souvenir collectibles -- ones not Taylor-related -- normally sell out really fast at theaters. Adding her to the mix means demand for the items will be through the roof. Good luck, Swifties!