Taylor Swift 'Eras' Film Review Goes Viral for Ridiculous Criticism
Taylor Swift
'Eras' Film Review Goes Viral ...
For Outlandish Critique
Taylor Swift's 'Eras' film got torched by a critic who likened her movie to the downfall of society as we know it -- and all we can say about this over-the-top piece is ... holy crap.
This critique -- which is now going viral, for all the wrong reasons -- comes courtesy of Armond White of the National Review ... which is a well-known conservative outlet, so keep that in mind as we guide you through this nonsense.
White does a full-blown sociological examination of the 'Eras Tour' flick, as he sees it -- and you can tell how he views things from his headline and subheading ... "Taylor Swift's Asylum Seekers ... A movie concert promotes post-Madonna, post-Obama mind control."
You can read it all for yourself, but here's one excerpt that's getting mocked ... "The Swift circus doesn't replace the thrill of originality and profundity that accompanied the advent of the Beatles, the Rolling Stones, the Supremes, the Jackson Five, which Gen Z knows nothing about. Instead, Swift specializes in degraded girl-pop -- teenage solipsism, the silliness that kids will ideally outgrow. Yet her songs corrupt puppy love into jejune sophistication."
He then compares the movie's director, Sam Wrench, to Nazi propagandist Leni Riefenstahl ... namely, making Taylor's concerts far more grand/aesthetically pleasing than they actually are in person, the way Riefenstahl did for Hitler -- at least that seems to be White's POV.
Not just this, but White actually tries to juxtapose Swfities innocently dancing in theaters to mass shooter James Holmes, intimating a connection by writing ... "The teens in TikTok clips who pitifully bounce and sing along with the film's pre-recorded concert are the flip side of those nerds and sociopaths who lined up for 'The Dark Knight Rises' in Aurora, Colo."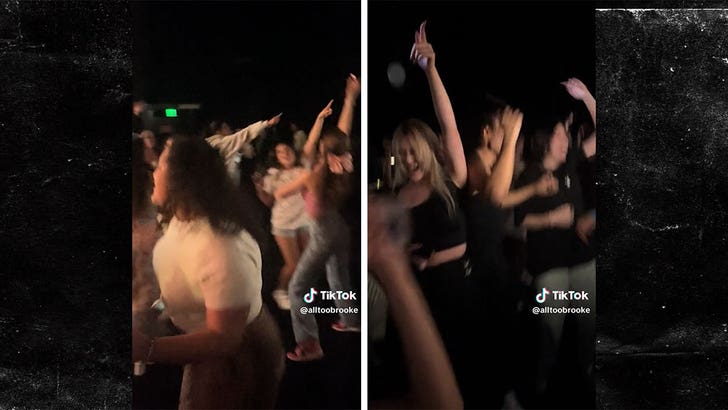 TikTok / @alltoobrooke
If that sounds unhinged, that's because it is ... that's certainly how Twitter feels about it, anyway. They're unloading on White's hyperbole over something as benign as a concert film.
He ends his scorched-earth review this way ... "Boomer parents may want to let them have their fun — same as toying with matches and playing in the traffic. But here's a frightening fact of the Swifties pheenom: These kids seem ready for a leader, anxious for totalitarianism. It will take a counterrevolution to repair Swift's moral, aesthetic, and political damage."
FWIW, White is very much a man apart here ... 'cause just about every other film critic (big and small) has praised the 'Eras' movie for being what it is -- a wholesome, good time.
Also ... her flick is poised to be the top dog (yet again) at the box office this weekend. 🤷🏽‍♂️