Britney Spears Music Catalog Gets Over 7 Million Listens After Memoir Release
Britney Spears
Music Catalog Gets Millions Of Listeners
... After Memoir Drops
Britney Spears' book isn't the only thing with a lot of eyes and ears right now ... cuz her music has racked up MILLIONS of streams just one day after her tell-all hit shelves.
According to data from Spotify and YouTube, Britney's library received over 7.1 million streams Wednesday -- the day after "The Woman in Me" became available -- with Spotify accounting for 4.7M of those listens.
As for how the listening streams break down -- Britney's album, "In The Zone," grabbed around 1 mil ... "Circus" got 790k, "...Baby One More Time" got roughly 750k, and "Oops!...I Did It Again" had around 650k streams.
In terms of individual songs on Spotify, "Toxic" came out on top with around 680,000 streams -- while her other megahits like "Gimme More" "Oops! ... I Did it Again" and "... Baby One More Time" landed bewteen the 400,000 - 500,000 mark.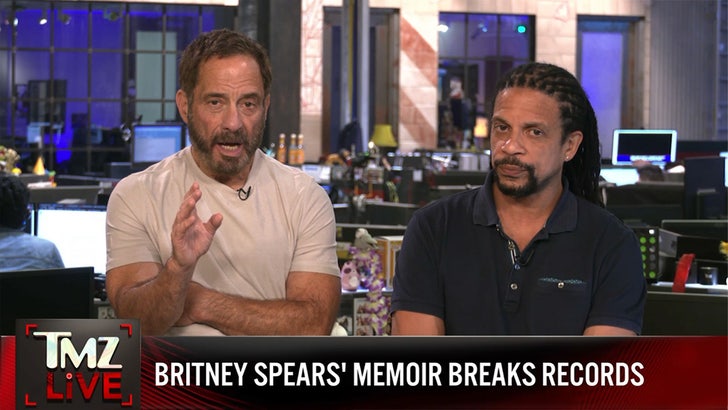 TMZ.com
YouTube data shows "... Baby One More Time" -- her debut single -- grabbed over 400k clicks alone. Safe to say, there's some great cross-promotion going on here.
As we reported, Britney is reeling in 25% of net profits from her new book. Sources told us it should cover the advance she got, which was $12.5 MILLION. More than 400,000 copies have already been sold ... but our sources say the trajectory could go over 1M.