Britney Spears Ex-Husband Jason Alexander Denies She Was Drunk at Wedding
Britney Spears
EX-HUSBAND DENIES SHE WAS DRUNK, BORED AT WEDDING ...
Actually, We Were in Love!!!
7:31 AM PT -- Jason Alexander's got a bad case of revisionist history, at least when it comes to how sober he and Britney Spears were on their wedding day. Eight years after the ceremony he told ABC News they'd been drinking and had "party favors."
When asked if he meant drugs, he coyly pointed out alcohol, caffeine and cigarettes are all drugs. Point is, they were far from sober, and Britney fans are calling him out for lying.
Jason Alexander, Britney Spears' ex-husband, is clapping back at her claim she only married him because she was drunk and bored ... instead, he insists it was true, sober love.
Jason, who was married to Britney for a whopping 55 hours in 2004 before getting an annulment, tells TMZ ... readers shouldn't believe a word Britney says about their marriage in her new memoir.
In "The Woman In Me," Britney says she and Jason "got sh**faced" before tying the knot early one morning in Las Vegas back in January '04 ... adding, "People have asked me if I loved him. To be clear: he and I were not in love"
Britney also writes, "I was just honestly very drunk -- and probably, in a more general sense at that time in my life, very bored."
JA says that's BS because they were absolutely in love and weren't boozing -- which, btw, is exactly how their wedding officiant described the couple in a previous interview.
Jason says they've been friends since childhood, and he still cares for and loves her -- however, he adds, he'd never buy her memoir, and would only accept a copy if it was signed ... and, even then, he admits he'd probably "sell it to the highest bidder."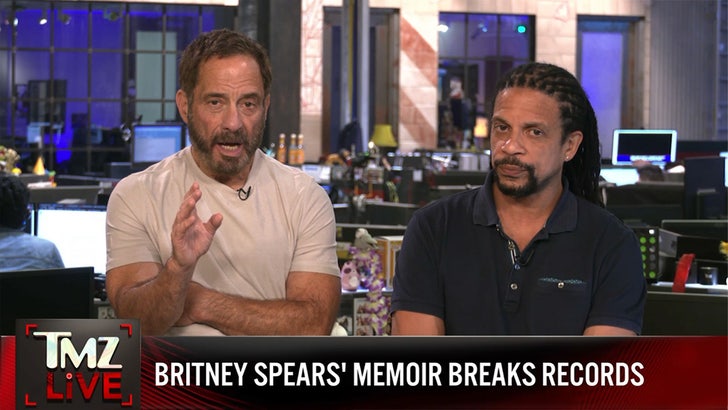 TMZ.com
Originally Published -- 1:00 AM PT