Colts Owner Jim Irsay -- PLEADS GUILTY ... In DUI Case
Colts Owner Jim Irsay
PLEADS GUILTY
In DUI Case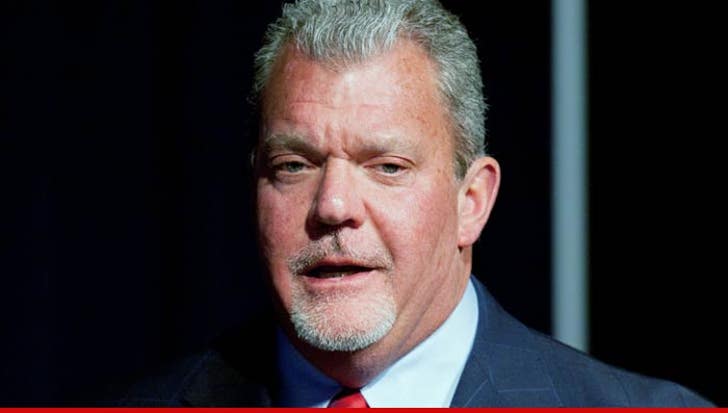 Breaking News
11:51 A.M. PDT -- The NFL has dropped the hammer on Irsay, suspending him 6 games and fining him $500,000 -- the maximum dollar amount permitted for violating the league's personal conduct policy.

Commissioner Roger Goodell, in a letter to Irsay, said ... "I have stated on numerous occasions that owners, management personnel and coaches must be held to a higher standard than players. We discussed this during our meeting and you expressed your support for that view, volunteering that owners should be held to the highest standard."

Indianapolis Colts owner Jim Irsay just pled guilty to one misdemeanor count of operating a vehicle while intoxicated ... stemming from a March arrest.
55-year-old Irsay appeared in court Tuesday morning in Indianapolis -- where he was sentenced to 1 year probation and will be subjected to court-ordered drug tests.
As we previously reported, Irsay was popped just before midnight on March 16th after driving super slow and failing to signal ... and officials say he had multiple painkillers in his his system, including oxycodone and hydrocodone.
Officials also say Irsay had various prescription drugs in his car at the time of his arrest
At the time of his arrest, cops said the prescription pills found in Irsay's car did not match up with the prescription bottles.
Cops also say Irsay had roughly $29k in cash with him at the time.
Irsay had previously pled not guilty to TWO counts -- but ultimately changed his plea after striking a plea deal with prosecutors.