Rob Gronkowski -- Gronks His Way Out of Party Bus Tow Job (PHOTOS)
Rob Gronkowski
Gronks His Way
Out of Party Bus Tow Job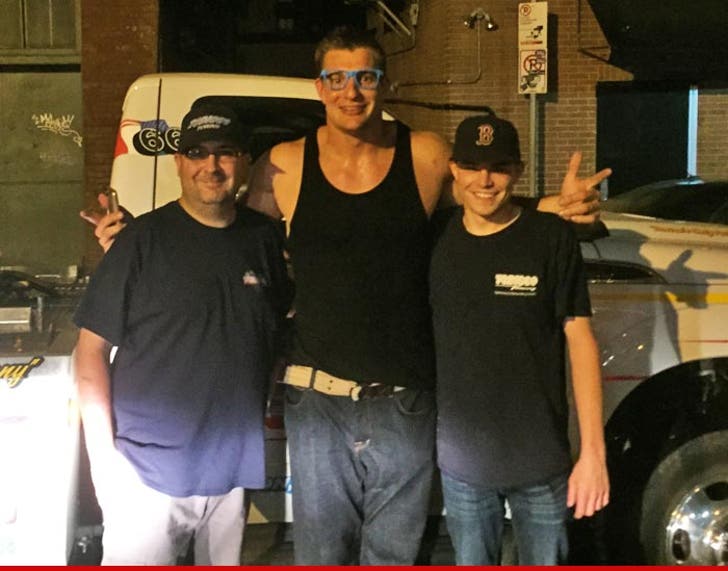 Exclusive Details
Two Boston tow truck operators didn't want to go down as the guys who hauled off Rob Gronkowski's party bus, so they let him off the hook ... and the Gronk couldn't have been happier.
Matthew from Todisco Towing tells TMZ Sports he was called to Howl at the Moon in Boston early Sunday morning to haul off a bus that was parked illegally in a private lot.
Despite the bus being adorned with a Body Armor logo (which Rob endorses) and his #87 ... Matthew claims he had no idea he was about to tow Gronk's ride.
Once the bus was up on the truck and ready to go, Matthew says several patrons began asking him, "Don't you know whose bus that is?"
Then, someone from Rob's entourage came out and promised to move it ... and Matthew decided, "I didn't want to find out what the end result would be if I had towed the truck. You know Pats fans wouldn't have that."
So Matthew let the truck down and that's when Gronk emerged -- super thankful for the reprieve -- and posed for a few pics.
Matthew was quick to tell us ... Gronk never asked anyone to stop or offered any kind of favor. Everyone involved was just acting out of the kindness of their hearts.
Not everyone was so lucky ... a few other cars did get towed that night.