Suge Knight Strikes 28-Year Plea Deal in Murder Case
Suge Knight
Strikes 28-Year Plea Deal in Murder Case
2:00 PM PT -- The plea deal was just unveiled in court, and Suge will get 28 years in prison after pleading no contest to voluntary manslaughter. The 53-year-old will get credit for time served -- he's been in jail awaiting trial for around 3 1/2 years. He'll also be on parole for 3 years after serving his prison sentence.
Suge's sentence is stiffer than a typical voluntarily manslaughter because he had a prior felony conviction in 1997. He also got an extra 5 years because the Carter killing was deemed a "serious and violent" felony. He got an additional year due to his truck being a deadly weapon.
Knight cracked a joke ... of sorts. Part of the judge's instructions to the defendant include a phrase about the possibility of deportation following conviction, to which Suge said, "So, ICE can come and get me." There was a smattering of laughter.
Suge Knight has struck a plea deal in his murder case ... TMZ has learned.
Several sources tell us the former Death Row Records exec will be in L.A. County Superior Court Thursday afternoon to enter a plea in the murder of Terry Carter. Knight had been facing the possibility of life in prison, and his trial was scheduled to begin Monday with jury selection.
We broke the story ... Suge ran over Terry back in January 2015 as he fled the Tam's Burgers parking lot in Compton. TMZ posted the surveillance video that showed Knight throw his truck in reverse, knock over one man, then drive forward over Terry ... killing him.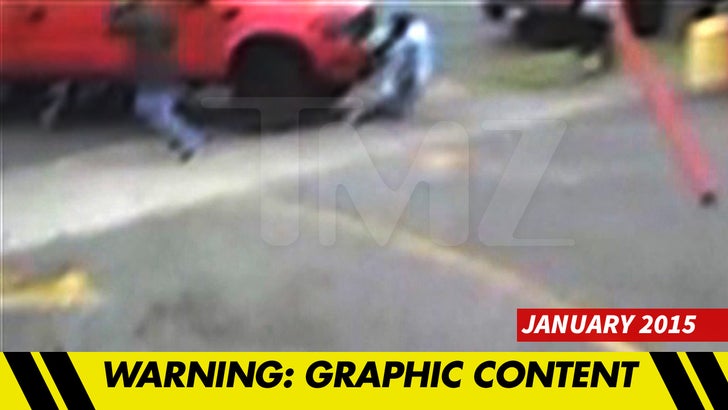 TMZ.com
Knight had claimed he was not trying to run over either of the men he hit -- but merely trying to escape because he thought both men were about to shoot him.
Suge was arrested shortly after the incident and has been in jail ever since then, awaiting trial.
Originally published -- 1:26 PM PT