NFL's Everson Griffen Escaped from Ambulance Before Mental Health Evaluation
NFL's Everson Griffen
Escaped from Ambulance
Before Mental Health Evaluation
Minnesota Vikings defensive end Everson Griffen jumped out of an ambulance fearing someone was going to shoot him -- while he was being transported for a mental health evaluation.
It's all in the police report filed by the Minnetrista PD -- which paints a sad picture of an NFL star in a serious mental health crisis.
The situation began early Saturday morning when a Vikings staffer called cops to report the 3-time Pro Bowler was acting bizarrely and the team feared he could either hurt himself or others.
Cops eventually made contact with Everson's wife, Tiffany, who said he had been fighting "demons" in his head -- and acting erratically.
Tiffany told police Everson was not on medication "but should be."
A short time later, Tiffany told police she got a call from the fiancee of Everson's teammate, Trae Waynes, who said Everson "broke into their home and jumped through some bushes" while not wearing a shirt.
Cops went to check it out -- but he was already gone.
Turns out, he went to a nearby gas station where he saw a man he recognized -- but did not know well.
Everson got into the man's passenger seat and ordered him to drive around. The driver freaked out and called Everson's wife. Cops found the car and ultimately called paramedics to treat Everson.
Cops say Everson agreed to be transported to a hospital for a mental health exam -- but during the drive, he got spooked when a few deer ran across the road ... and jumped out of the vehicle.
He told officials "he was in fear that someone was going to shoot him."
Everson was eventually transported to the hospital where he is still being treated.
Vikings GM Rick Spielman said the team was "currently focused on Everson's well-being and providing the appropriate support for him and his family" ... and head coach Mike Zimmer added "it's about him getting better."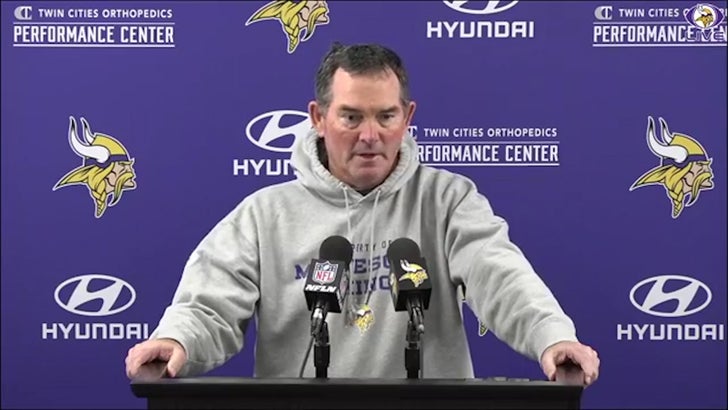 Minnesota Vikings