Eric Reid Still Considering Kneeling For National Anthem
Eric Reid
Still Considering Kneeling For National Anthem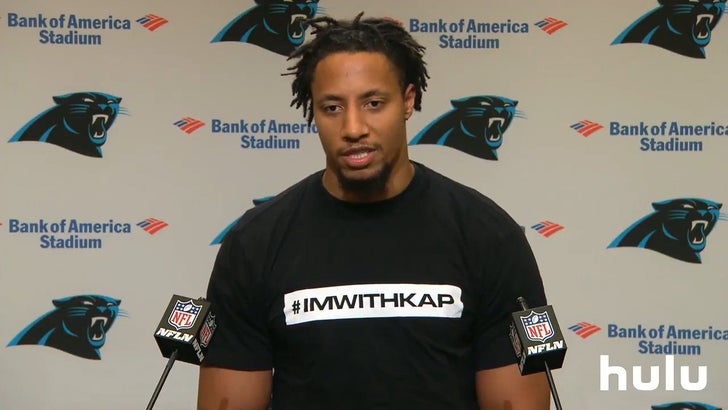 PANTHERS
10:55 AM PT -- Eric Reid hasn't yet decided if he will continue kneeling during the national anthem ... telling reporters at his first-ever Panthers news conference today he's still considering it.
The newly signed safety -- sportin' an all-black "#IMWITHKAP" shirt ... says he needs to evaluate "the scope of our country" before he decides whether he'll continue to take a knee.
The 26-year-old says he's also considering other ways outside of pregame kneeling to continue his protests ... telling reporters, "I'll make that decision later."
Think Eric Reid is happy to be back in the NFL? Judging by this pic at Panthers practice Monday morning ... he's STOKED!!!
The 26-year-old rocked his new #25 jersey for the first time Monday -- it's a huge deal considering Reid sued the NFL claiming he was being blackballed for kneeling during the national anthem.
Reid was one of the top available defensive backs (he's a stud) -- but remained unsigned until last week when the Panthers finally pulled the trigger on the 2013 Pro Bowler.
Reid flashed the black power fist while signing his deal -- leaving many wondering if he'll continue his kneeling protest now that he's back in the league.
The Panthers take on the Giants at home on Sunday ... so, stay tuned.