Brian Ortega Prays for Max Holloway's Health, 'I Really Do Care About You'
Brian Ortega
I Pray for Max Holloway's Health
'I Really Do Care About You'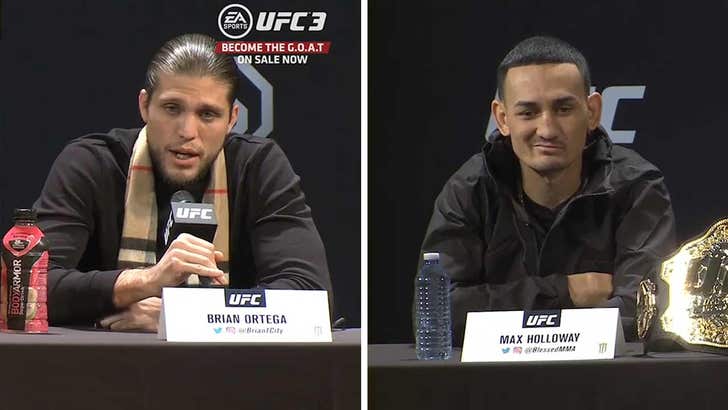 UFC
Emotional moment between Brian Ortega and his UFC 231 opponent, Max Holloway -- when Ortega told Max he's been praying for him ever since the Hawaiian's health scare back in July.
Brian and Max are set to fight each other on Saturday -- it'll be Max's first time in the Octagon since he backed out of UFC 226 with "concussion-like symptoms" just days before the fight.
Holloway says he never got a clear answer about his health -- so he's launched a "private medical investigation" to find out what happened to him.
Still, he's been cleared to fight Ortega -- and at the pre-fight press conference in Toronto on Wednesday, Brian got very serious when asked about Max's health.
"At the end of the day, I really do care about your health and how you are and how you're doing," Ortega told Holloway.
"I know you've got a son. I mean, bullsh*t aside, I know we're fighting and all that sh*t, but I do hope you're alright."
Ortega continued ... "I pray for you. Swear to god."
The crowd cheered and Holloway appeared to thank Ortega for the kind words.
See, it doesn't ALWAYS have to be nasty ...