Wade Robson and James Safechuck Arrive at 'Leaving Neverland' Premiere
Michael Jackson Documentary
Accusers Arrive for Screening
... Get Standing Ovation
TMZ.com
1/26 1:00 PM PT -- Michael Jackson's estate has responded to the "Leaving Neverland" premiere by slamming it once more, saying, it "isn't a documentary, it is the kind of tabloid character assassination Michael Jackson endured in life, and now in death."
The estate claims the director intentionally avoided interviewing people who could attest that Jackson treated children with respect and never harmed them "so he could craft a narrative so blatantly one-sided that viewers never get anything close to a balanced portrait."
Jackson's estate refers to Robson and Safechuck as "admitted liars" and accuses them of trying to "achieve notoriety and a payday by smearing" Jackson.
For what it's worth ... Wade and James have claimed they were not paid for "Leaving Neverland."
1/ 25 1:15 PM PT -- Emotional Robson and Safechuck took the stage after the film and were given a standing ovation. They did a brief Q&A, and let the audience know just how important getting everything out was to them.
12:40 PM PT -- We're told there's a lot of emotional testimony from Wade and James in part 2, especially talking about coming to terms with their abuse and revealing it to their families.
At one point, Wade breaks down in tears describing having visions of Michael abusing his own kid. He talks about going to therapy and telling his family the truth. We're told some members of Wade's family has contempt for his mother for allowing the abuse to happen. James' mom also appears on camera and talks about her guilt.
Some of the evidence in the film used to support the allegations against Michael include "love notes" to both boys along with voice messages. We're told despite the upsetting nature of the film, the audience applauded at the end.
12:05 PM PT -- Part 2 heavily focuses on Jackson's case and trial, and how he allegedly treated Wade and James in the process. Both claim Jackson made legal threats, and Wade eventually decided to testify in Jackson's defense because he says he was scared of the repercussions if he told the truth.
James says he refused to testify and Jackson got mad and threatened him, but that was the last time they spoke.
11:30 AM PT -- We're told the second part of the documentary opens with Jackson's allegations surfacing publicly for the first time in the '90s, and later moves on to his 2003 arrest for child molestation.
It also details the lives of both James and Wade after their time with Jackson, and how they dealt with his arrest and their connection to the case.
11:10 AM PT -- Someone watching the preview tells TMZ ... the doc is airing in 2 parts. The first hour of part 1 features Safechuck's testimony, including his story about how Jackson befriended him and his family before the alleged sexual abuse began.
We're told Safechuck gives very graphic details of the abuse and sex acts, which he claims happened at Neverland and Jackson's home in Century City. He says the abuse started when Jackson taught him to masturbate in a hotel room in Paris.
There's also a lot of footage of James and Michael together, and we're told James shows the jewelry MJ allegedly bought him as rewards for sex acts.
The second hour of part 1 features Robson's account of how he won a dance contest to meet Michael, who then convinced him and his mom to move to L.A. to be closer to him.
We're told both James and Wade claim the abuse felt normal to them because Jackson coached them on how to keep a secret. He allegedly had drills with them, and had alarms go off so the boys knew to put clothes on when people would approach at Neverland.
Both men say the abuse got worse as they got older and Jackson introduced them to pornography. They claim that's when he began having anal sex with them.
The mothers of both men are also featured in the doc and talk about how they trusted the pop singer, but were blinded by his fame. We're told there's also mention of Macaulay Culkin -- allegedly, Michael would tell the other boys he was his favorite.
We're told part 2 just began ... opening up with when allegations first started surfacing about Jackson.
The explosive Michael Jackson documentary is about to be unveiled, and the 2 accusers at the center of the doc -- Wade Robson and James Safechuck -- just entered the theater for the premiere of "Leaving Neverland."
Both men say MJ molested them when they were kids. The Michael Jackson Estate has come out swinging, calling both men liars and even excoriating HBO for agreeing to run the documentary.
Police were out in force in Sundance for the premiere, but only a handful of protesters were present.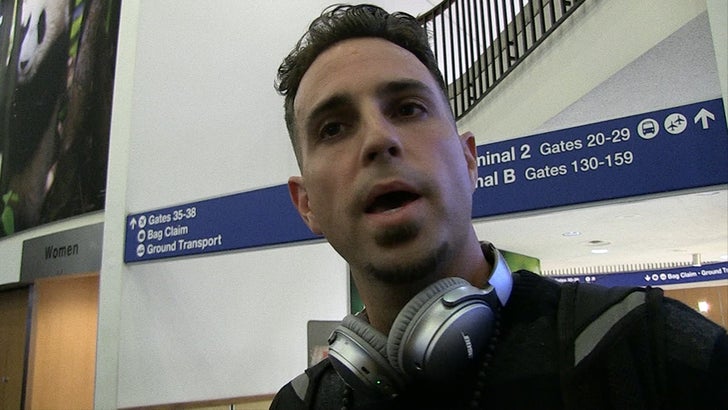 TMZ.com
We got Robson -- who has become a famous choreographer with credits that include directing Britney Spears music videos -- Thursday on his way to Sundance, and he did not necessarily endorse a mute Michael Jackson movement. He said his participation in the movement goes way beyond MJ.
There's a Q&A session after the screening, and it's possible opposing sides may face off. We're there, so stay tuned.
Originally Published -- 9:57 AM PST