Gervonta Davis Arrested, Allegedly Struck Woman In Face Causing Injuries
Gervonta Davis
Arrested for Domestic Violence
... Allegedly Struck Woman In Face
7:41 AM PT -- TMZ Sports has obtained the police report in which cops say they have surveillance footage which appears to show Davis striking the victim in the face, causing injuries.
The report says Davis dragged the woman off the floor of the celeb game to a separate room -- all while grabbing her shirt with his hand close to her throat.
When they got to the backroom, cops say video shows Davis "pulling his arm back and then forward towards the victim, which is consistent with a strike to the face where the victim sustained injuries to her lip and left jaw."
Cops say the woman cooperated with police and provided a written statement saying she was attacked by Davis. She also allowed police to take photos of her injuries.
Gervonta Davis has been arrested for domestic violence for roughing up his ex-girlfriend at a celebrity basketball game in Florida, cops confirm.
The boxing superstar -- currently the WBA lightweight champion -- surrendered to the Coral Gables PD on Tuesday for the Feb. 1 incident.
Cops say the 25-year-old is facing one count of "simple battery domestic violence."
As we previously reported, Davis was seen grabbing and ripping his ex-girlfriend -- the mother of his child -- out of her seat during a heated altercation at the game.
The argument continued backstage.
Cops say, "As a result of an ongoing investigation after being notified through social media and the victim, on Feb. 1 2020, [Davis] was observed battering his former girlfriend whom [sic] have child together."
"[Davis] surrendered himself, to the Coral Gables Police detectives assigned to the case."
For his part, Davis put out a statement over the weekend denying striking the woman.
"I never once hit her ... yeah I was aggressive and told her come on," Davis said.
"That's the mother of my child. I would never hurt her."
Davis is a rising superstar in the boxing world -- he's Floyd Mayweather's protege and has racked up an impressive 23-0 record as a pro with victories over guys like Yuriorkis Gamboa and José Pedraza.
Davis has had a BUNCH of legal issues over the years -- he was arrested for assault back in 2017 after allegedly punching a friend. The charge was later dropped.
He was arrested again in 2018 for a street fight in Washington D.C.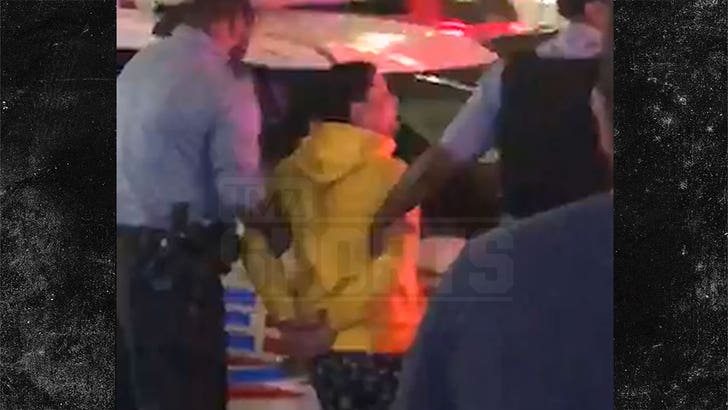 TMZSports.com
Originally published -- 2/4 1:46 PM PT