Harvey Weinstein Convicted on 2 Counts, Acquitted on More Serious Charges
Harvey Weinstein
Guilty of Criminal Sexual Act and Rape
... Acquitted on 3 Other Charges
5:22 PM PT -- Harvey Weinstein was taken to a hospital shortly after being taken into custody because of chest pains. He's expected to be transferred to Rikers Island once he's treated.
11:16 AM PT -- Rotunno and Weinstein's attorney Damon Cheronis tell us, "While he was not convicted on the most serious charges, we are disappointed in the verdict and will be filing an appeal. There are issues in this trial that were extremely troubling, and they prejudiced Mr. Weinstein's ability to have his case fairly judged. These will be addressed to a higher court."
They continue, "In the meantime, we are working on assuring that Mr. Weinstein is brought to Rikers' Island's North infirmary unit at the Anna M Kross center complex or in protective custody so that he can get the best medical supervision and care possible.
9:58 AM PT -- Weinstein's attorney, Donna Rotunno, tells TMZ, "We knew going in it was an uphill battle from the beginning. The verdict is bitter sweet. An appeal will be filed, this fight is not over."
Rotunno also says they requested that Weinstein be placed in a medical facility inside the jail while he awaits sentencing. However, it is ultimately up to the Dept. of Corrections where he ends up.
9:39 AM PT -- Manhattan D.A. Cyrus Vance just spoke to the media and made it very clear ... Weinstein's convictions -- even on just 2 out of 5 counts -- are absolutely a success in his eyes, and not a failure by any stretch of the imagination.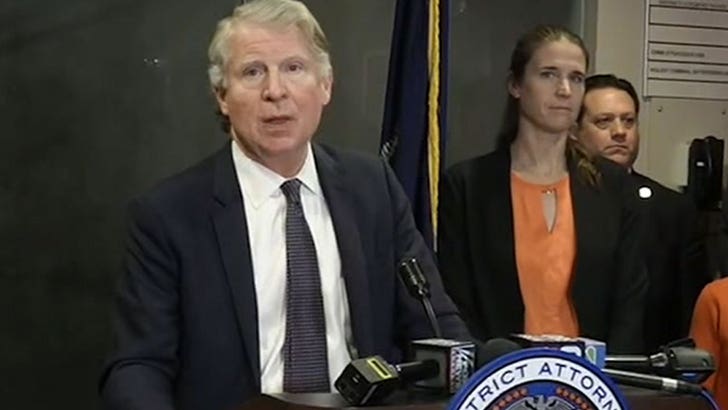 Fox News
Vance praised all of the women who testified in the case, saying they changed the course of history with their participation and stories ... and helped bring the criminal justice system into the 21st century in the fight against sexual violence.
He went on to say what was made clear is that rape is rape, and sexual assault is sexual assault -- whether someone reports it in an hour, a year or never ... and despite the relationship a victim may have with his or her attacker.
Bottom line for Vance ... he says there's a new landscape on how to look at these cases, and it's all because the women in this case were heroic enough to take the stand and speak. He says Weinstein will be behind bars for a minimum of 5 years, and his office will take that as a victory ... even though life in prison was potentially on the line on the more serious counts.
Vance's hope with this case is that victims of sexual abuse will come forward and report, and know they will be believed ... and that justice will be pursued on their behalf. It doesn't appear Weinstein's legal team took the opportunity to address the press Monday.
9:14 AM PT -- Weinstein was remanded into custody following the announcement of the verdicts. He will remain behind bars until his March 11 sentencing hearing.
Harvey Weinstein is guilty of 2 of the 5 charges he faced in his NYC criminal trial -- but he was found not guilty on the charges that could have put him in prison for life.
The jury found Weinstein guilty of 1st-degree criminal sexual act and 3rd-degree rape. He could get up to 25 years in prison just for the criminal sexual act. However, the jury found him not guilty on 2 counts of predatory sexual assault charges. Those carried a possible life sentence. He was also acquitted of 1st-degree rape.
A jury of 12 people -- 7 men and 5 women -- finally reached their verdict after 5 days and about 22 hours of deliberations. This comes after an interesting turn on Friday ... when the jurors sent a note to the judge asking if they could be hung on 2 counts of predatory sexual assault and unanimous on the others.
The judge told them to go back deliberations, and they worked it out by Monday morning.
As we reported ... Weinstein pled not guilty to 5 felony charges relating to sexual misconduct. The charges were based on the accounts of 2 women ... Miriam Haley, a TV and film production assistant who worked on "Project Runway," and former actress Jessica Mann.
The prosecution rested its case 2 weeks ago after 12 days of witness testimony. In total, 6 women testified against Weinstein, including Haley and Mann. Last Tuesday marked the start of jury deliberations.
As we reported ... Mann testified under oath that Weinstein began manipulating her as soon as he met her, allegedly forcing himself on her multiple times and raping her at a hotel in Manhattan.
Weinstein's defense argued he had a consensual relationship with Mann lasting for years after the alleged sexual assault. He maintained all sexual conduct was consensual.
During closing arguments, Weinstein's lawyer, Donna Rotunno, ripped into the prosecution, saying prosecutors, "created a universe that strips adult women of common sense, autonomy and responsibility," arguing Weinstein's accusers acquiesced to sex because they thought it would advance their careers.
However, Prosecutor Joan Illuzzi-Orbon countered in her closing argument, saying Weinstein's accusers "were merely ants that he could step on without consequences."
Originally published -- 8:53 AM PT