Kendall Jenner
Implies She's Banging NBA's Devin Booker ...
Fires Off 'Tweet of the Year'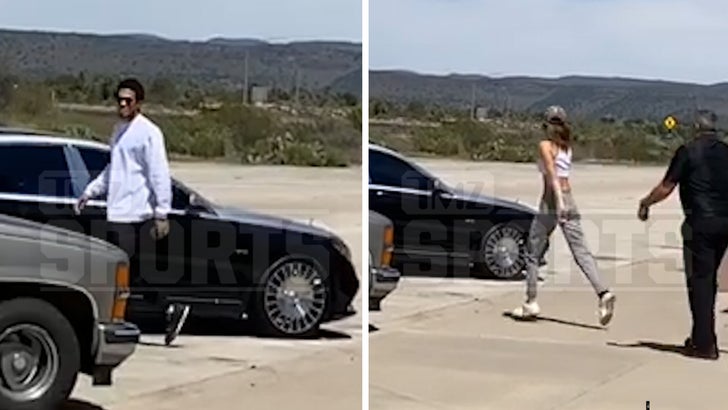 APRIL 2020
TMZSports.com
3:05 PM PT -- So much for "just friends"?!
Kendall just clapped back at some haters who suggested she was being "passed around" by NBA stars (since she dated Ben Simmons) and her response is EPIC.
"They act like i'm not in full control of where i throw this cooch."
Kylie Jenner loved the tweet -- saying, "lmfao tweet of the year."
Kendall Jenner has a special quarantine pal -- NBA superstar Devin Booker -- and they just social distanced in the back of his Maybach together for a quick road trip to Sedona!
TMZ Sports has footage of the two during a quick bathroom break at a rest stop near the Arizona city ... and it's not like they were trying to keep a low profile.
As you can see in the clip, the two rolled up in Devin's super-fancy Mercedes-Benz Maybach (they usually cost around $200k). Plus, he's 6'5" and plays for the Phoenix Suns. And, she's 5'10" and one of the most famous people in the world!
Witnesses tell us they certainly LOOKED like a couple during the stop, but sources close to Devin and Kendall insist they're just friends.
One source puts it this way ... "Kendall and friends have a small social circle amongst the group, who have been following the same social distancing and physical distancing guidelines. Devin is a friend and is part of the small group."
"They took a road trip for some much-needed air" -- but we're told they made a concentrated effort to minimize interactions with other people.
24-year-old Kendall and 23-year-old Devin have been friends for years. They've been running in the same social circles since at least 2018.
Booker is one of the top young players in the NBA -- he's currently in the middle of a 5-year $158 million contract with the Suns.
Originally published -- 12:50 AM PT