Rob Gronkowski Says There's '69% Chance' Edelman Joins Bucs After Pats Retirement
Rob Gronkowski
'69% Chance' Edelman Joins Bucs
... After Pats Retirement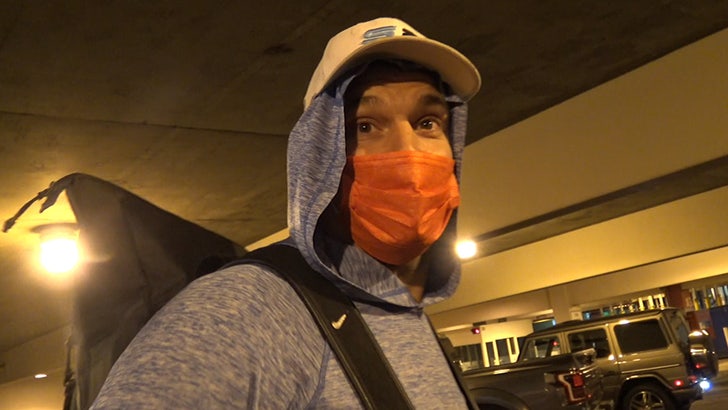 BACKGRID
Gronk says it's all possible after Edelman's retirement from the Patriots ... explaining he believes there's a "69% chance" Julian's a Buccaneer in 2021!
The future Hall of Fame tight end made the revelation at LAX on Monday night -- just hours after Julian hung up his Patriots spikes -- saying he believes his former New England teammate ain't done with the NFL yet.
"He'll be back," Gronk said of Edelman. "He'll be back. Yeah."
Edelman, though, didn't seem so sure of that on Monday ... in his retirement announcement, Julian explained injuries just won't let him go any further with his football career.
But, Gronk knows Julian as well as anybody -- the two were Pats teammates from 2010 through 2018 -- and he made it pretty clear he doesn't think Edelman's REALLY done.
If somehow it is the end of the road, Gronk said Julian is 100 percent a Patriots Hall of Famer ... though he added he's not sure if Edelman is a lock for the Pro Football Hall of Fame yet.
"I definitely think he has a great possibility to be a Hall of Famer," Rob said. "He's a beast. And the numbers just don't show everything that he brings to the table. The attitude, the competitiveness that he has."
As for Gronk's future -- he's coming back to Tampa in '21 -- but could he be doing it with a fiancee?!
Check out the clip, does Rob's answer on Camille Kostek make him seem like a man that's about to propose????