Dua Lipa 'Horrified' By DaBaby's Homophobic Rant, Clothing Line Drops Him
Dua Lipa to DaBaby
'Horrified' By Your Homophobic Rant!!!
... Clothing Line Drops Him
7:00 AM PT -- 7/28 -- The clothing company, Boohoo, has now sent DaBaby packing. Boohoo announced it has cut ties with the rapper following his so-called apology. The clothing company said, again, it condemns the use of homophobic language but this time it confirms it'll no longer be working with DaBaby.
3:59 PM PT -- DaBaby's issued an apology of sorts to people affected by HIV and AIDS, calling his comments "insensitive" but saying he didn't mean to offend anyone ... and that's pretty much where his contrition ends.
The rapper's offering no apology to "any brands, networks, or artists that like to profit off of black rappers influence on the culture," claiming they don't understand "what comes with the position we play in our culture" ... and telling them to keep their money next time.
Earlier, DaBaby tweeted of his controversy, "I tell fans to put a cellphone light in the air y'all start a million man March." He added ... "Now show this same amount of support when a racist cop kill one of our black ass…YA NOT."
He concluded, "Other than that y'all cheer the f**k up & be proud of who you are cuz you can't make me feel less of myself."
1:37 PM PT -- The clothing company, Boohoo -- which has a collaboration with DaBaby -- is also speaking out against his comments, saying it "condemns the use of homophobic language" and is reviewing its relationship with him.
Boohoo adds that it supports the LGBTQ+ community, saying ... "diversity and inclusion are part of our core values and we pride ourselves on representing the diverse customers we serve across the globe."
Dua Lipa says she's "surprised and horrified" by DaBaby's anti-gay and sexist diatribe during his set at Rolling Loud ... she says it doesn't sound like the artist she thought she knew.
Dua Lipa, who worked on a song with DaBaby last year, just responded to his homophobic rant ... saying she can't believe he's spewing all that hate.
DL says "I don't really recognize this as the person I worked with" ... alluding to their 2020 collab on the song, "Levitating."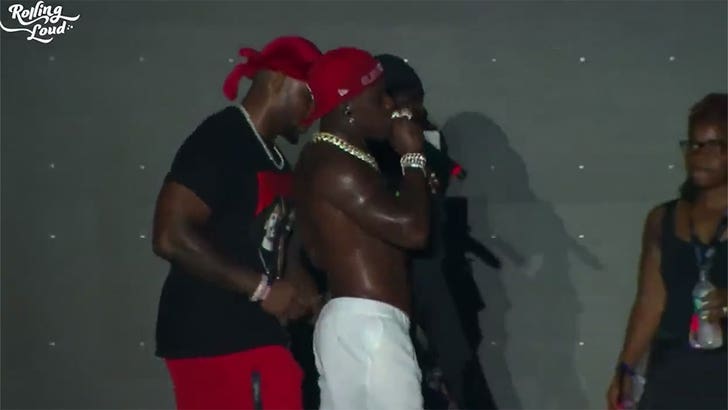 7/25/21
Rolling Loud
As we reported ... DaBaby told folks in the Rolling Loud crowd to put up their cell phone lights, encouraging them to do so in a very disturbing way by telling them ... "If you didn't show up today with HIV/AIDS or other STDs that'll make you die in 2-3 weeks" and "Fellas, if you didn't suck a n**** d*** in the parking lot."
DaBaby tried clearing up the vile comments following tons of backlash, posting a video where he claims the words weren't directed at his gay fans because his gay fans aren't "nasty gay n****s" or "junkies." In other words, he only made things worse.
Dua Lupa makes a clear distinction between her values and DaBaby's rant ... saying she stands "100% with the LGBTQ community" and calling on folks to come together to fight the ignorance and stigma around HIV and AIDS.
Originally Published -- 7/27 1:10 PM PT