Kodak Black Shot in the Leg at Justin Bieber After-Party Amid Super Bowl
Kodak Black
Shot in Leg at Bieber After-Party
... Amid SB Weekend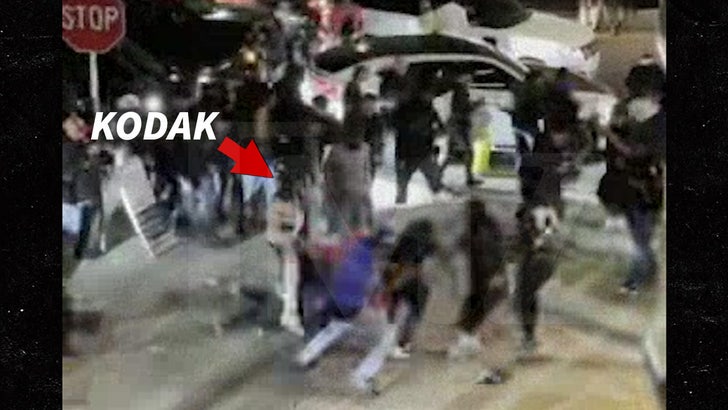 TMZ.com
2:12 PM PT -- A new angle has surfaced of the shooting last night, and it shows a mad scramble after multiple shots rang out. There also appears to be new evidence of at least one person with a gun.
Check out the clip, obtained by TMZ, which shows a wide angle view of the chaos from a bit of a distance that actually gives a great view of what went down. You can see Kodak actually jumping into the mix ... but shortly thereafter, somebody opens fire, sending everyone running for their lives.
In other surfaced footage from yet another angle, you can actually see a guy wearing black who seems to be holding what appears to be a pistol ... and you can also see that same guy in our new video too.
It's unclear if he fired any shots himself, or who he may have been with ... but cops are investigating as we speak. Speaking of the police, they sent out an update Saturday, relaying that 4 people had actually been shot -- instead of 3 as was previously thought -- and that they have a description of a suspect ... but no arrests just yet.
12:36 PM PT -- Here's what went down from Kodak's POV, according to people in his camp ... he was in town for SB weekend and related business, and attended Bieber's party with no issues whatsoever inside. It wasn't until he stepped out that trouble found its way to him.
We're told that upon exiting, somebody in Kodak's crew got jumped by an unidentified assailant ... and Kodak threw himself in the mix to help his pal out, apparently swinging on the person in effort to do so. Our sources say that's when a gunman opened fire.
Unclear if it was the same person who'd initially tried attacking Kodak's buddy, or if it was a different person entirely -- but in any case, we're told KB was hit in the leg. He was taken to a hospital and listed in stable condition ... so it sounds like he's going to be okay.
12:15 PM PT -- Sources with direct knowledge tell TMZ ... Kodak Black was, indeed, among the three people shot last night in L.A. We're told he sustained injuries that were non-life-threatening.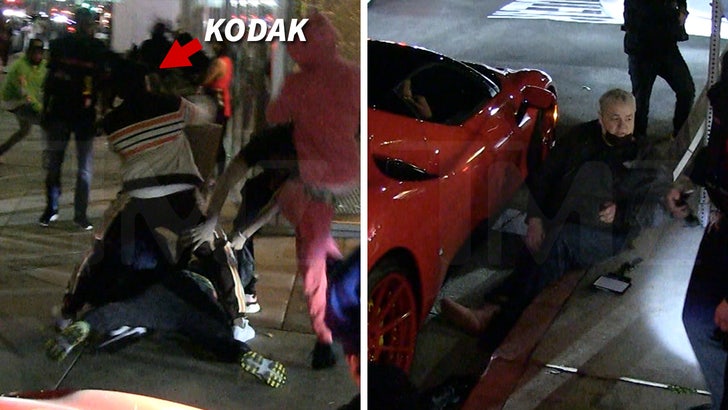 TMZ.com
Three people were shot and another was injured after gunfire erupted right in front of a slew of celebs ... following Justin Bieber's concert Friday night.
At around 2:45 AM, as Kodak Black, Gunna and Lil Baby were standing on the street, smiling and talking, a fight broke out. Kodak took a swing at someone and then ... you hear gunshots.
Law enforcement tells us there were a total of 10 shots fired with three people hit by bullets and one sustaining injuries some other way. All were taken to the hospital and are in stable condition.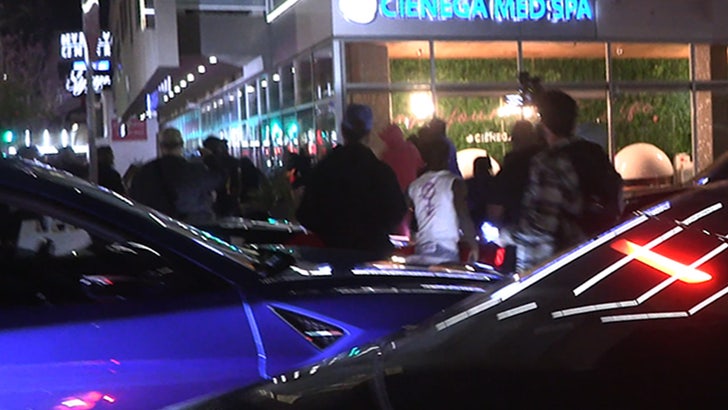 2/12/22
BACKGRID
According to police the shooter/shooters are still on the loose.
The parties are the roll up to Sunday's Super Bowl. There were a bunch of parties Friday night, and they were for the most part peaceful.
Originally Published -- 6:00 AM PT