Tupac-Related Vegas Raid Ends with Intense Face-Off, Two People Removed
Tupac Shakur
Vegas Raid Ends with Intense Face-Off ...
Two Removed from Home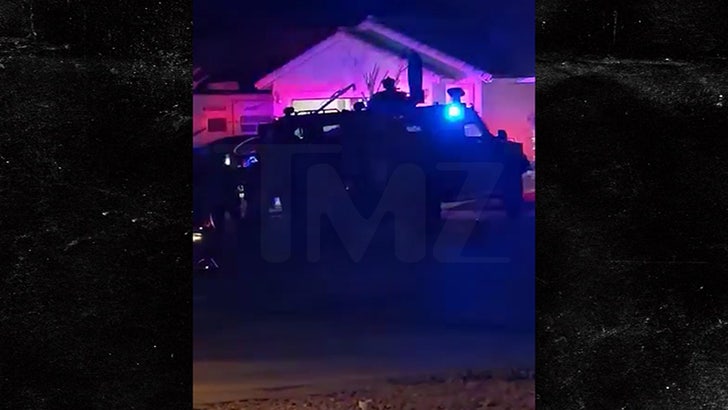 TMZ.com
12:59 PM PT -- We've now obtained the search warrant, listing the items taken from inside the home, which included lap tops, iPads, a USB and hard drive. There were also books taken -- including Keefe D's "Compton Street Legends" and a bunch of photographs.
The home Las Vegas cops raided in connection with the Tupac Shakur murder case was lit up with police lights in the dead of night, creating a chaotic scene ... seen in this new video.
TMZ obtained dramatic footage from Monday night's SWAT operation when Vegas Metro PD descended on the quiet Henderson, NV neighborhood around 10 PM ... honing in on one house and shouting for the people inside to come out with their hands up.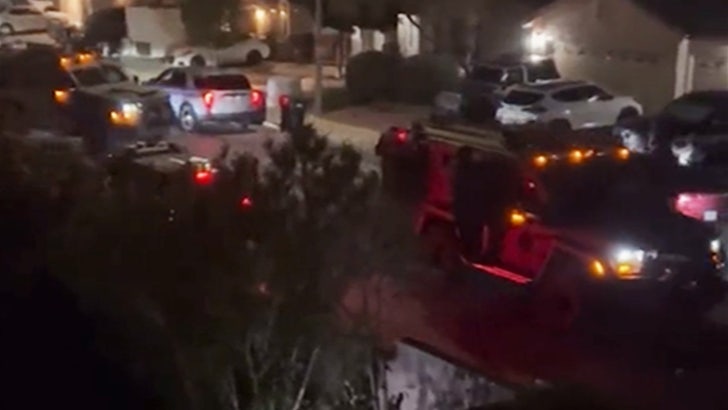 7/19/23
KTNV 13 Las Vegas
Watch for yourself ... you hear an officer talking through a megaphone, telling a woman to drop her cigarettes and comply with his demands.
Eventually, he starts to bark orders at a man as well ... telling him to turn around, put his hands in the air, and walk backward. It's unclear if these 2 people were the only ones inside, or if they were detained or arrested.
As we reported ... cops were executing a search warrant, but we still don't know what their probable cause was to obtain that warrant. Once inside, though, they seized hard drives and photos of possible suspects in Tupac's murder ... according to an ABC News report.
TMZ broke the story ... the house is owned by Paula Clemons, who's married to a former Crip named Keefe D. For years, he's claimed his nephew, Orlando Anderson, fired the fatal shots at Pac just off the Vegas Strip in 1996, and that he was in the car with him at the time.
We don't know for certain Paula or Keefe are currently living at Henderson home. Neighbors in the area tell TMZ the couple they've seen in the house moved there in 2016.
We're told they've always been nice, saying hi to folks ... with no suspicious behavior.
TMZ also knows cops were here at this address for about 2 hours conducting the search. The big unanswered question is whether they found anything that could close the Tupac murder case.
We covered it all on the latest of The TMZ Podcast, available on all podcast platforms.